Before Starting
When you create and publish an event using our Events feature, you can choose to generate an e-ticket for each participant.
These tickets have a QR code that will allow you to control the ticket's validity at your event. You can scan these QR codes using the ticket scanning app, from your smartphone, computer or through a barcode reader.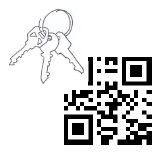 Where Can I Find the Ticket Scanning App?
From your admin account on the software, head over to Events, then click Manage on the event you want to scan tickets for. After this, go to the Communication tab and click Scan tickets.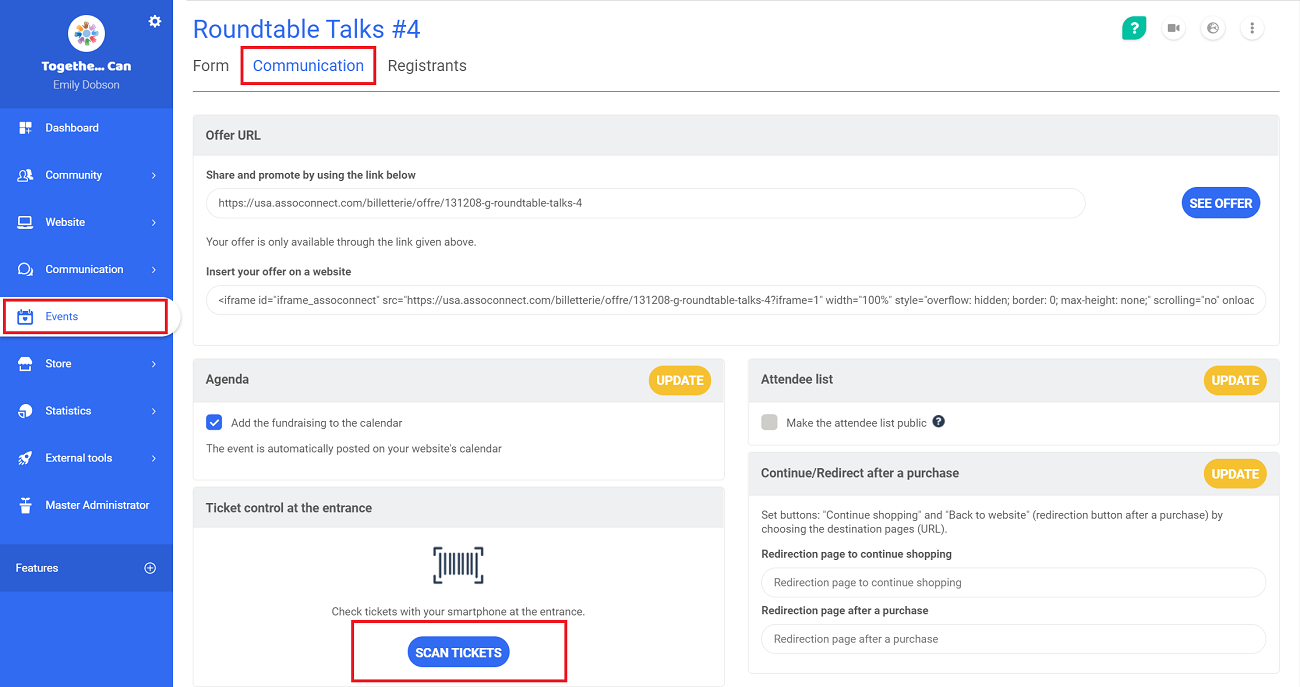 From here, you will access a menu page, where you can decide how you will scan the tickets.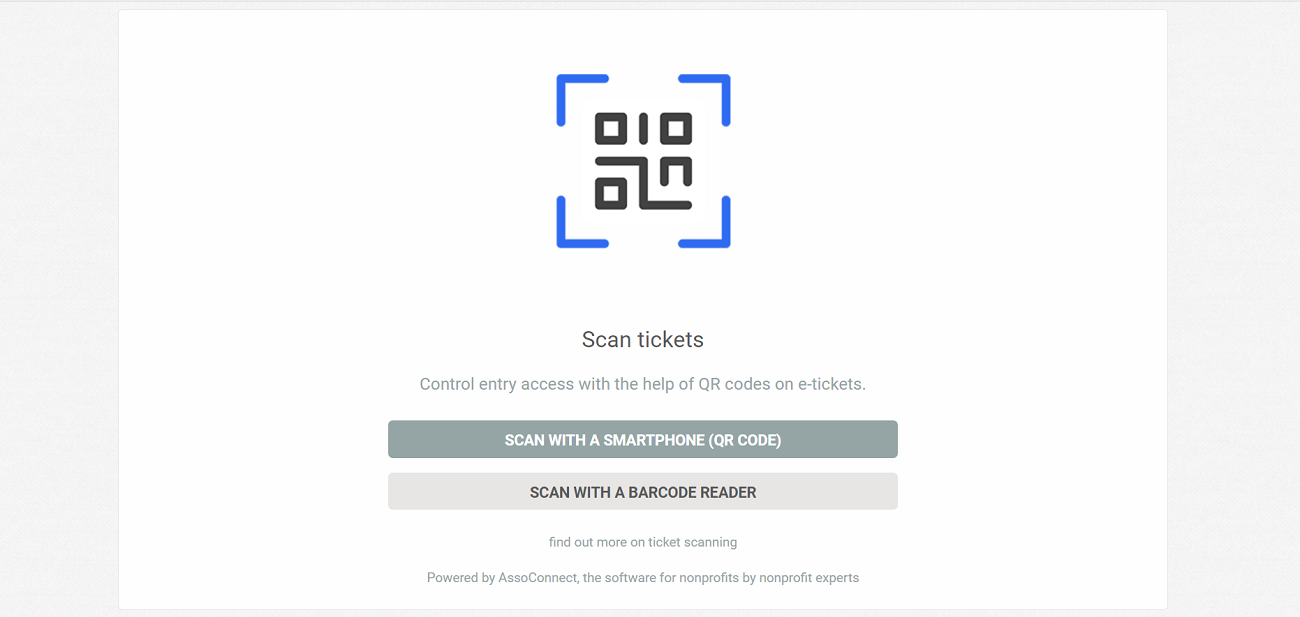 How Does the App Work?
Once on the menu page of the scanner (see how to access it above), you can choose how you will scan the tickets:
Scan with a Smartphone: Uses the camera on your smartphone, this option also works on your PC as long as your webcam is on
Scan with a Barcode Reader: Works with a bar code reader or by manually entering the ticket number
Scan With a Smartphone (or PC)
To scan with a smartphone, you need to open the software on your smartphone and follow the steps above to reach the same menu and select Scan with a Smartphone. The camera of your telephone will start and you will be able to scan e-tickets by bring the QR code close to the camera. The screen will then tell you if the ticket is valid or not.
From a computer, after clicking on Scan with a Smartphone, the screen will display what your computer's webcam sees. If you do not have a webcam, you will not be able to use this option.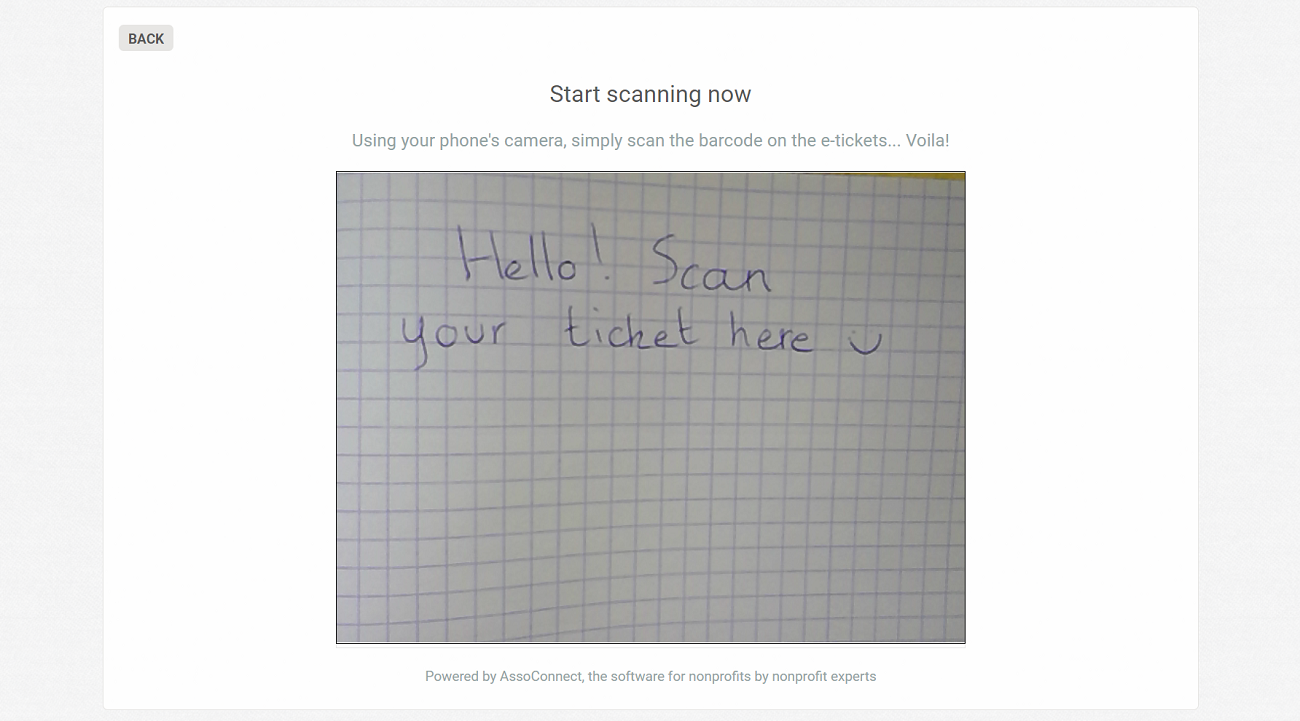 If nothing shows up, make sure your webcam is turned on (the camera icon is visible to the right of your browser search bar). If your webcam is not integrated into your computer, make sure it is plugged in and turned on.
Scan With a Bar Code Reader
By choosing to Scan with a Bar Code Reader, you will have the option to scan the e-tickets using a bar code reader or to enter the ticket number manually.