Before Starting
Simple groups are an easy way to organize and segment your community. These can reflect, for example, the different categories in your nonprofit (different types of donors, members, and contacts). This segmentation can be done automatically based on defined criteria, or manually.
Simple groups will also allow you to delegate part of your responsibilities by assigning admins who will be able to use certain features of the main platform.
This article deals with the following points:
The Different Types of Simple Groups
When creating a group, you can choose between two different types: Regular groups and Dynamic groups.

Regular Groups
A regular group allows you to manually add members to it.
If you have a volunteer group and Erica decides they wish to join, you will manually add them to your group "Volunteers".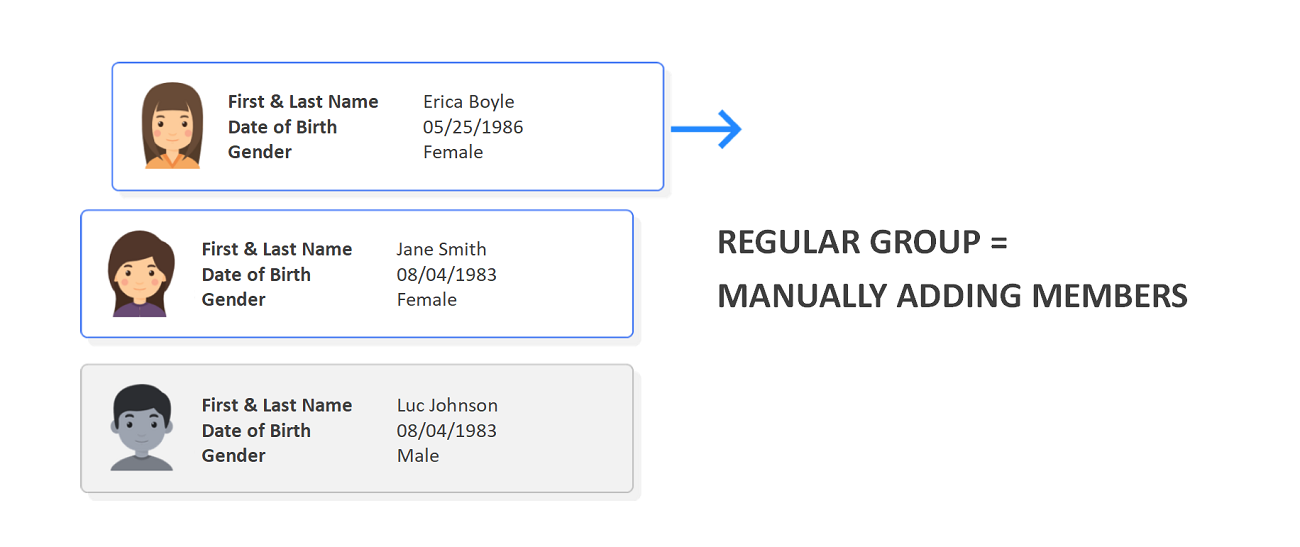 Dynamic Groups
In contrast, dynamic groups will automatically assign people to a given group based on the information recorded in their profile.
For the group "Volunteers of Chicago", you can assign anybody living in Chicago and marked as a volunteer in your community.

Each time you add a person that meets the chosen criteria, they will automatically be added to the group.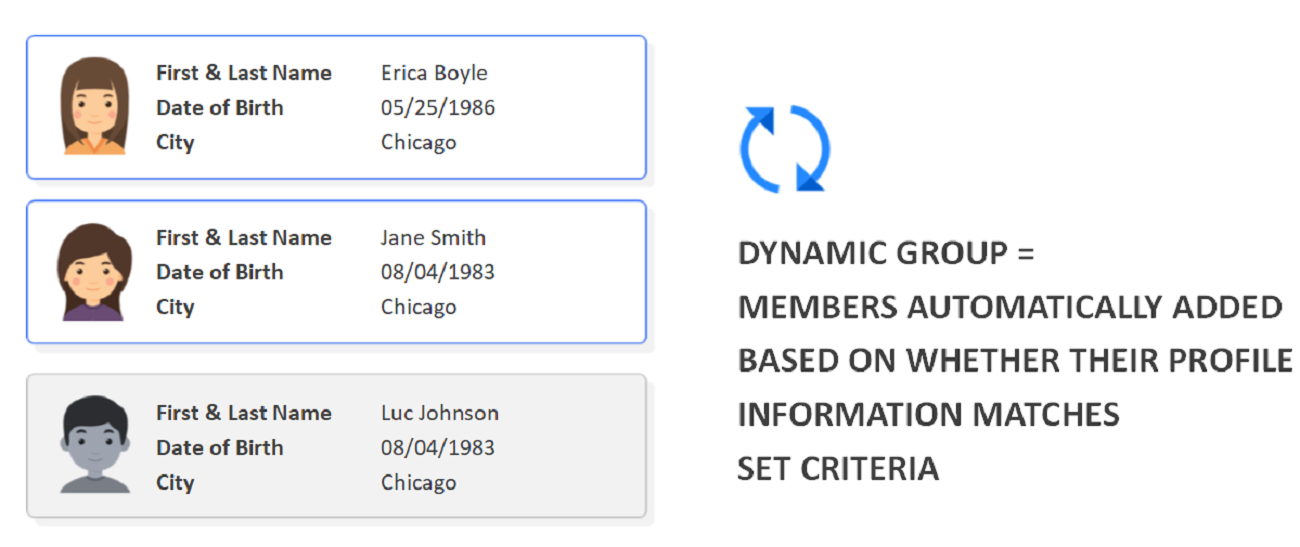 Creating a Simple Group
Regular Groups
To create a regular group, head over to Community > Groups and click on New Group.

Next, select the option regular group in the pop-up window.

Select the people that you want to add to the group and click Add to Group. You can also add multiple people at once through an Excel import.

Additionally, you can add members to an existing group from the Contacts tab.
Dynamic Groups
You can set up a dynamic group from the same page, by choosing the option Dynamic group.

Group members are added based on criteria:
Choose which criteria should be used by selecting a field and its value, for example, "Address" and "City = Chicago".
The software automatically adds the contacts that match these criteria to the group.
Assigning someone to a dynamic group is instantaneous: if a person moves from Chicago to New York and their address is updated in the CRM, they will automatically be removed from the "Chicago Volunteers" group.

Different fields that can be used as criteria:
The default information fields (address, telephone, gender, etc.) set by the software
The custom fields that you have created
The information on donations and memberships
As the software automatically adds contacts to groups depending on whether they match the criteria or not, you sometimes need to fill in the value of the criteria, especially for the custom fields. In the example above, the admin would need to fill in Chicago in the City option.
From Community > Contacts
You can also create a dynamic group from the page Community > Contacts, in the Advanced Search bar. To access it, click on Refine and select the criteria for the group. You can then add the people who meet this criteria to a group by selecting them and clicking Create Group.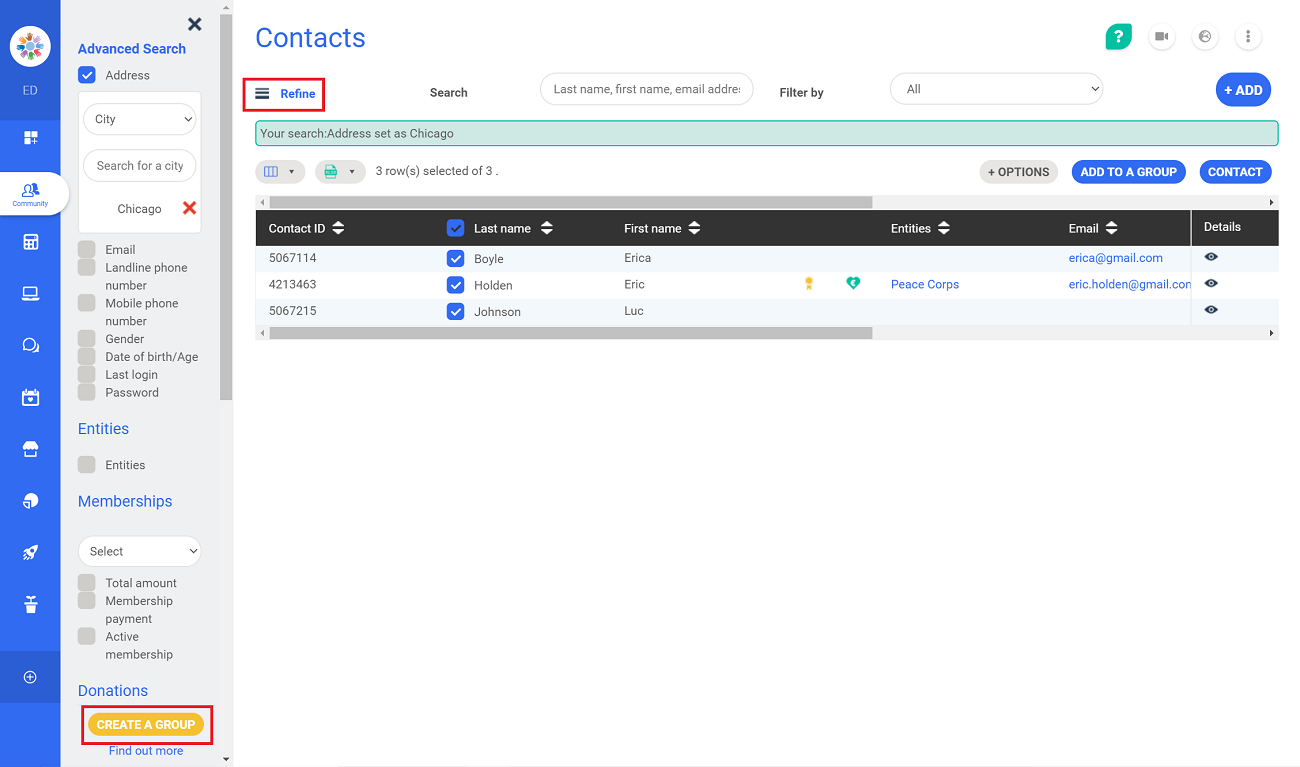 Creating a dynamic group from the CRM will allow you to use the additional criteria linked to that page (password, last time the connection was online, etc.).
Main Functions
Assigning an Admin to a Group
You may want to limit the access of an admin to a group, or to delegate the group's management to them.
In this case, you can set up an admin per group, who will then be able to manage this group, add people to it and use the features accessible to that group.
Due to technical limitations, if anyone has access rights to features at a higher level (on the main platform or in an advanced group), and is assigned to be an administrator to a simple group, they will automatically have the main admin rights at the higher level.
Delegating Features
A simple group allows you to segment your CRM and gives access to part of the overall features. A group can:
Manage its own CRM
Use attendance lists
Send simple emails, as well as email campaigns