Before Beginning
If you made a mistake when manually entering a sale (done by an administrator), you can delete it. Here are the steps to follow in order to do so.
To refund a sale, see this article. If the sale is the subject of an online payment (for example by credit card), you will not be able to delete it, only refund it.
Delete a manually entered sale
Go to the relevant event or campaign and open the participants tab. Choose the person to be reimbursed from the list of participants and click on the Detail icon on the far right of the line.
This will take you to the details of the sale. You can delete the sale by clicking on the Delete All button on right side of your page.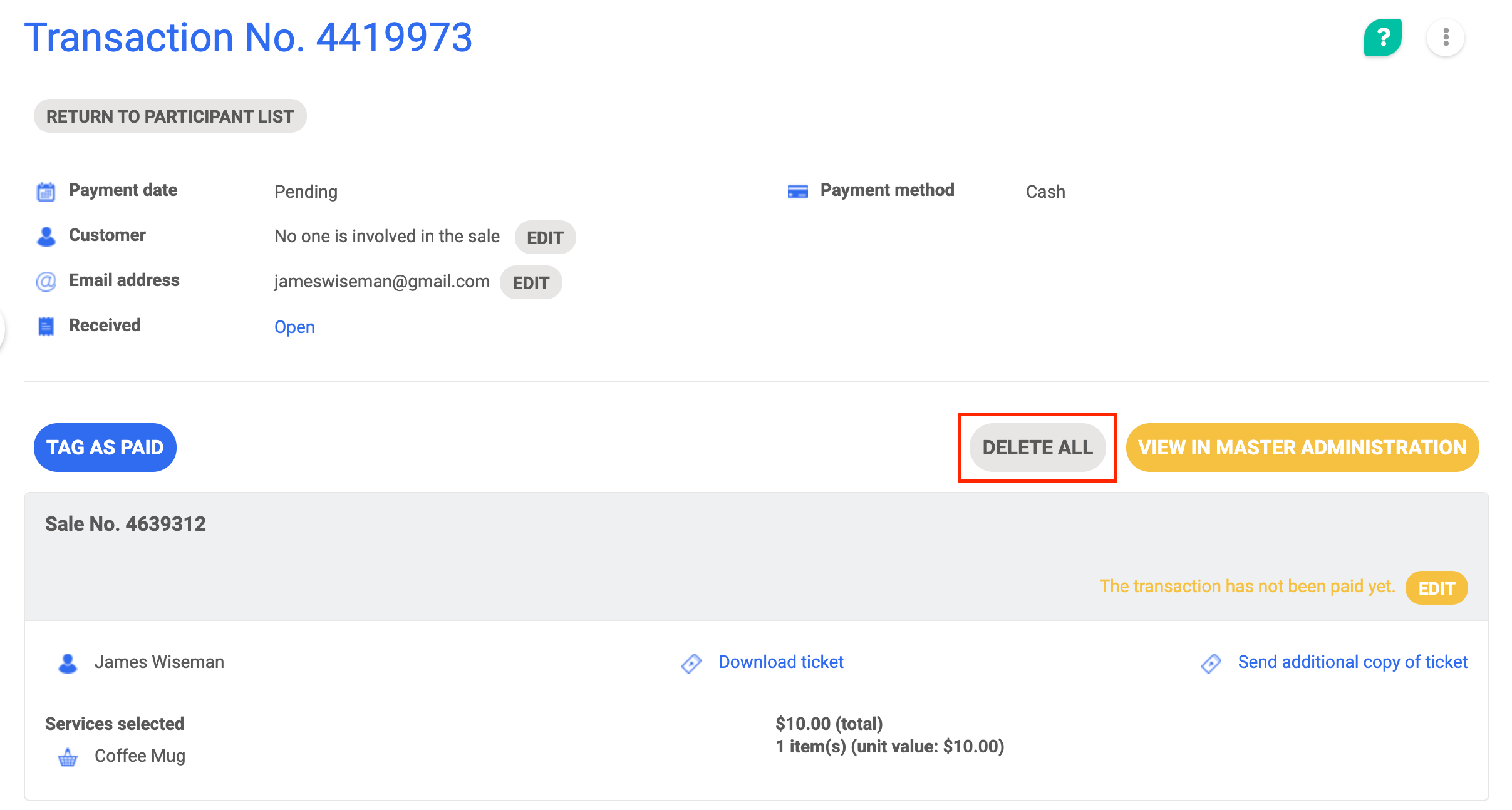 Once your action has been confirmed, the sale will be removed from the list of participants.
It is not possible for a user to delete a sale himself, only an administrator can do it.
Special Cases
An invoice has been issued
If an invoice was issued at the time of purchase, then using the Delete All button will cause the following to occur:
Delete the transaction from the list of participants.
The transaction will always be viewable from the buyer's profile file via the Purchases section.
A deposit has been paid
For example, a person places an order of 3 products linked to a stock for $90 and pays you a deposit of $30. The check associated with the corresponding purchase is deposited in the bank. At a later time, the person cancels his order. He loses his deposit which is cashed.
To cancel the sale while keeping the receipt of the deposit, you can:
Cancel the transaction, the products will be credited back to your inventory.
Register a receipt/purchase of $30 corresponding to the deposit.
Change of events
If you wish to change a purchase, or modify certain sections of the transaction (amount, service, etc.), you will have to cancel it or refund it to create a new one.