Before Starting
In a membership campaign, you can create various membership plans for all your different types of members. This article will guide you in managing your membership plans by covering these topics:
Linking a Membership Plan to a Group
When creating your membership campaign, you can create membership plans that are linked to a group. This means that anybody signing up to that specific plan, will be added automatically to the chosen group.
This function is also available when creating a donation campaign. However, it is not available for sales in the store or in the events feature.
Main Idea
To target your messages and keep your CRM clean, groups are used. Linking a membership plan to a group is an easy way to automate this process.
For example: You have 2 membership plans, one for under 25s at $15, and another for over 25s at $25. It can be useful to record which members took which membership.
Our tool helps you manage this, by allowing you to automatically segment your members depending on which membership plan they chose when signing up.
How To Set This Up
To automize this segmentation, head over to your membership campaign under Community > Memberships, then go to the Membership Plan section in the Form tab.

Click on the settings icon (cog) at the right of a membership plan that is already created. A pop-up window will appear.
You can then click on +Options, then on Add a member to a group during the membership process, and select a group.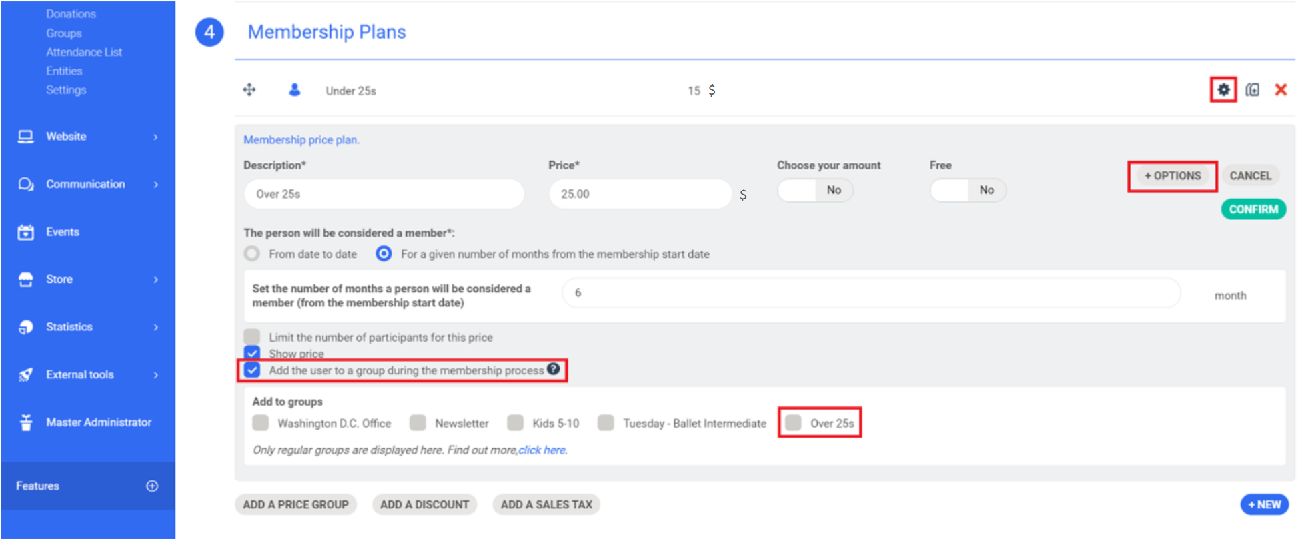 Once these modifications are done, new members registering and choosing this membership plan will be automatically added to the selected group.
To learn more on this topic, check out the article on managing your groups and on creating of a membership campaign.
Managing Membership Discounts
In the Events, Store, Membership and Donation features you can offer discounts.
General Functioning
For each campaign, you can set up one or more discounts, that are applicable to all the fees of that campaign. The discount is calculated automatically for each purchase: the system verifies that the condition is met, and if it is, the discount is applied.
Different types of discounts can be set up when creating a campaign:
Number of participants: If a registrant sign-ups more than 3 people, including themselves, then they benefit from a discount of $X or X% per participant
Whether the registrant belongs to a group: If the person signing up belongs to a group, they can benefit from a reduction of $X or X%, for every person they are signing up (including themselves)
If the discount applies to only some contacts, the discount will be applied to the person's basket based on whether they are part of the select group of contacts. If they are, then every person they sign up will also benefit from the discount.

Discounts do not add up: If a person can benefit from several discount rates, the highest discount rate will be applied to their basket, not the sum of all discount they are eligible to receive.
Conditions Where the Discount "Some Contacts" Applies
A discount is applied based on the buyers profile information in the CRM. Their profile information is used to see if they match the discount criteria. Discounts therefore depend on the buyer's profile and not on the information of those being signed up.
For example: If a mother has logged into her account and is signing up her son, it is the mother's profile information that will be used to determine if a discount will be applied to the basket, and not the son's information.
For this discount to count, the person must be listed on their profile in the CRM as belonging to the chosen group before the transaction takes pace. They therefore must be connected and have created an account before registering.
If the person signing up meets the criteria for this discount, this discount will be applied to the entirety of their basket, including if they are paying the membership fees for other people.
Calculation Method
If you create a discount, this will be applied to all the "shopping basket" and not only to the membership fee.
Example: If a person chooses the fee A and B, they will benefit on the X% discount on both fees.
Tip: Start off with the end basket price (with the discount), and then see how much of a discount you want to apply to reach the price you want to achieve.
Setting it Up
To set up a discount, head over to the Form of your campaign, and to Membership Plans.
Create your discount by clicking Add a Discount. Fill out the information related to the discount: a description, the discount's amount (in % or $ amounts), as well as in which cases does the discount apply.
Add as many discounts as you want and press save.
Organizing Your Membership Plans
If you have too many membership fees offered, it can become confusing and hard for your potential members to read. Here are some tips to resolve this.
Reduce the Number of Membership Plans Offered
One of the first reflexes would be to reduce the number of membership plans offered.
Ask-yourself the following questions:
Which formulas can be combined?
Can I manage 90% of the memberships online, and manage the others offline?
The more complex your membership plans are, the more the buyer will be lost when singing up.
Create Structured Membership Plans
If you need to offer a large choice of membership options, the best way to do so is to use the Price Groups feature.
Main Idea
With this feature, you can regroup your membership plans by group, in order to make them clearer and easier to read. For example, as seen below, members will be able to quickly distinguish between Group A, B and C membership plans.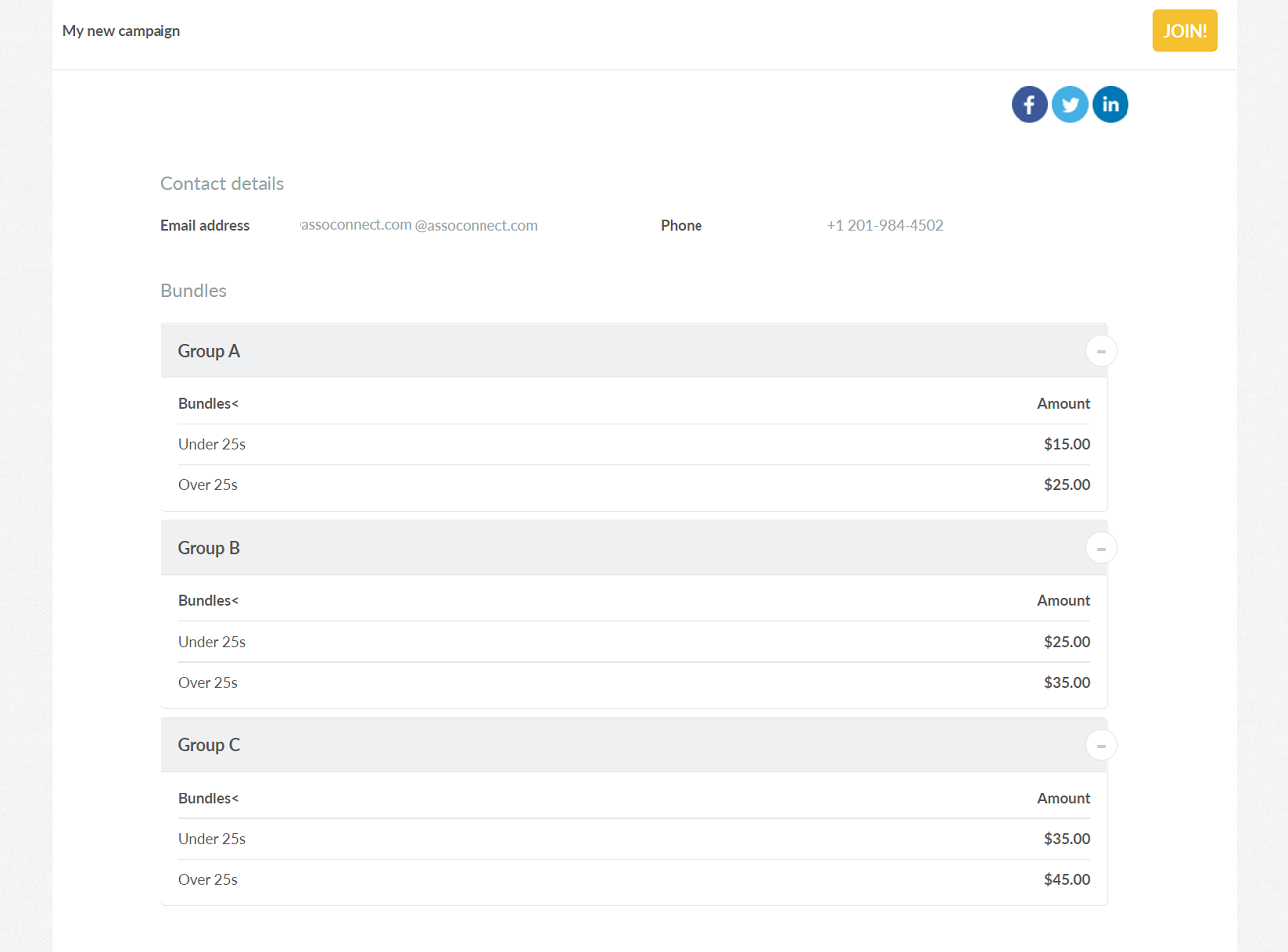 Creating Price Groups
To create price groups, head over to the section Membership Plan in the Form tab of your campaign. Click on the gray button named Add a Price Group.
Drag and drop each formula into the groups you create (using the cross with arrows on it). Next save the form by clicking the button at the bottom right of the page.