Before Starting
Running a nonprofit is often a team effort, that's why we have created administrators and their different roles to allow several people to work at the same time, without risk of losing data.
To do so, each person must be assigned administrative rights before starting.
Assigning Administrator Rights
To access the page where administrator rights are managed, click on Settings > Administrators, at the top left of your platform.

Here you will find the list of all the administrators of the platform, as well as their rights. As a main administrator of the software, you can modify at any point the admin rights of others by clicking on the Rights icon on the right-hand side of each row.
A word of caution: the administrators of your groups are not included in this list.
The Different Types of Access Rights
There are different types of access rights depending on the needs that you have:
Main access rights: Allows the person to have access to all the features and the respective data
More restrictive rights: Gives access to only certain features
Only a main administrator can add or take away other administrators from the software.
An administrator only has access to the features to which they have the rights to (for example, the CRM Manager will not be able to access the website feature).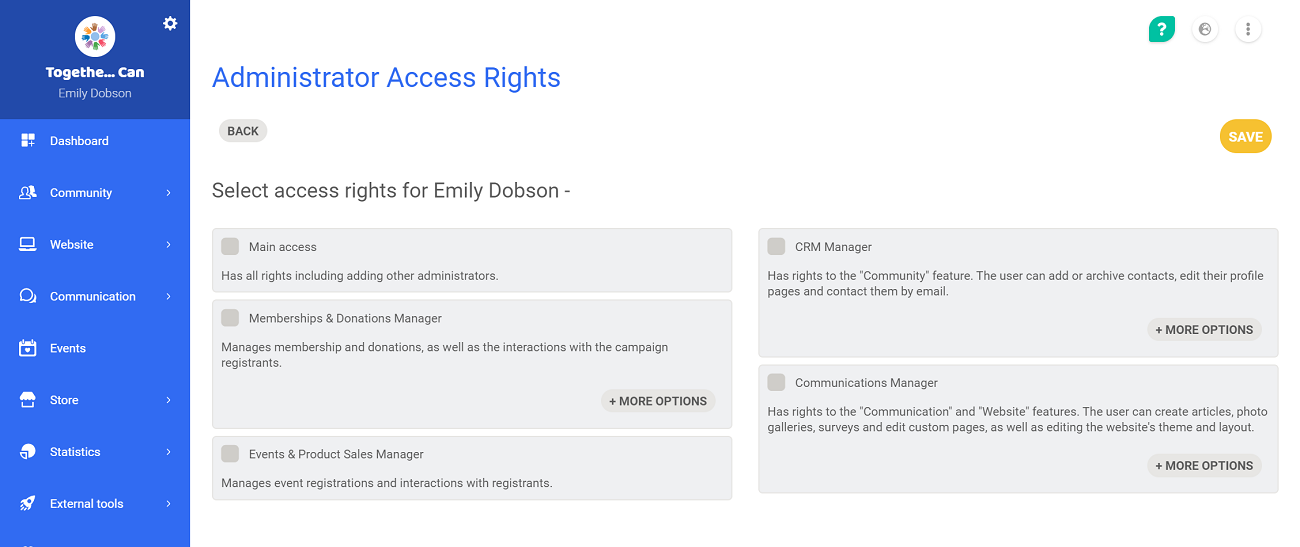 The different types of admin rights are:
1. Main Administrator
A main administrator has access to all the features. They can also:
Add or delete other administrators
Consult or modify the information of the organization (subscription, name, etc.).
2. Membership & Donations Manager
They can add donations by hand, create membership and donation campaigns, and register people in the campaigns.
3. Events & Product Sales Manager
These admins can create campaigns/ticketing events and manage them (adding people who registered, etc.).
Certain restrictions apply, and the admin will need extra access rights if they want to publish on the website (they will need the Communication Manager rights too).
4. CRM Manager
They will be able to add or delete contacts in the CRM, and modify information on contact's profiles. They will be able to email contacts through the simple emailing tool, but will not be able to send email campaigns.
5. Communications Manager
They have the rights to the Website and Communication features. As such, they can write and publish pages, manage the parameters of the organization's nonprofit (theme, footer, domain name, etc.) and send email campaigns to all contacts and to lists of other recipients.
6. Accounting Manager
This admin right is only accessible in the French version of the software.
They can, for example, manage all accounting entries, change and enter them, display documents or close fiscal years.