Before starting
You can find your CRM under Community. From here, you can organize your database and decide which information you want to collect from your contacts (postal address, medical documents, etc.).
This article explains how to customize your information fields to meet your nonprofit needs:
Default information requested to Contacts
By default, the software asks for the following information:
First and last name
Birth date
Gender
Email address
Landline
Postal address
From these fields, only First name and Last name are mandatory, however, in order for members to be able to log-in smoothly, an Email address should also be given. The remaining fields are optional and can be filled out by any new contact upon registration, so you can always hide them all, if prefered.
Creating information categories
You can create additional information fields to collect as much information as you need from your contacts.
To store these, you need to first Add a Category, which will help you organize the information collected and structure your contacts' profile.
E.g. Consider that you organization is a soccer club. In this case, you can structure you contact's profiles with information categories, such as: General information, About you, Player style.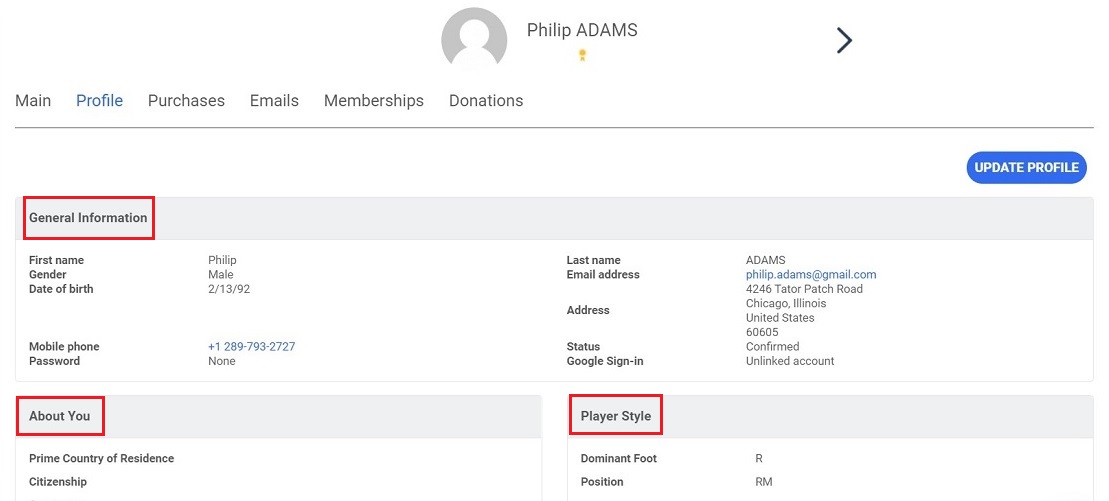 Steps to create information categories
To set up a new information category, follow these steps:
Head over to Community > Settings: If this is the first time you are creating a new information category, first click Create a field, which will automatically create your first new category.


If you've already created new fields before, you can skip to the next step.
Once the first field is created, scroll down to the bottom of the page, and click on Add a category.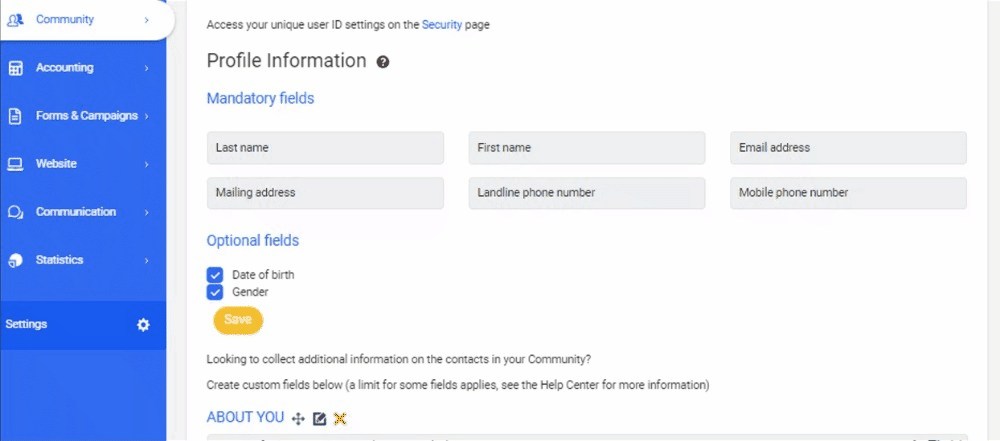 If you need to gather specific information only on members of a specific group, check this article: Restrict categories to specific groups.
Creating information fields
Steps to create information fields
You can do this from the same route Community > Settings. Once you've created information categories, you can start adding new information fields. There are 2 possible scenarios:
If you have not yet created a custom category: In this case, if you click on the Add a Field button, the field will be automatically attached to the Additional information category.
If you have already have a custom category: Then click on the correspondent Add a Field button, so the field is attached to it.
Choosing a field type
Once you've clicked Add a Field, a window should pop up allowing you to choose the field's name and type. Choosing the type of field gives you the possibility to adapt each one to the information to be collected.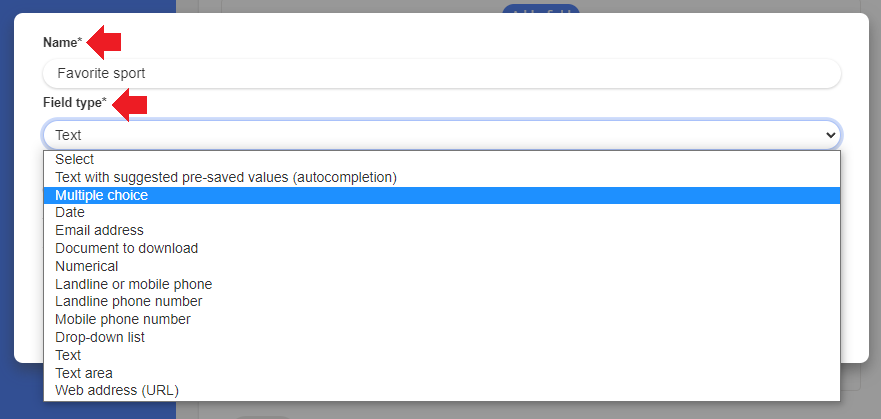 For example, if you select Multiple choice instead of Text, contacts will be able to choose an answer from predefined values, instead of writing their own. Selecting the correct field type will lead to clearer and unified data.
The different field types are explained in this article.
Fields shown during a re-registration
When someone registers for a campaign or an event, the software only shows the information that has not already been provided by the contact. Therefore fewer fields to fill in and a much more simple registration!
If there are fields that have already been asked in the past to registrants and that need to be asked again, contacts can update their replies from their profile page.
E.g. If your nonprofit offers classes, your contacts might want to take different ones as they did last year.
If by any reason they cannot modify the information themselves, you can create a field to collect this information. This field will be new and therefore will be asked when they re-register.
Managing the access to each field
When creating or editing a field, you can choose to make this information visible and/or modifiable by the contact, or keep that access to the admins.