Before Starting
You can find your CRM under Community. From here, you can organize your database and decide which information you want to collect from your contacts (postal address, medical documents, etc.).
This article will explain how to personalize your information fields to meet your nonprofit's needs:
Default Information
By default, the software requires certain pieces of information from the user. These include their first and last name, birth date, gender, email address, landline and postal address.
These fields can be asked to each new contact when they register, but are not obligatory: you can hide them all (apart from the first and last name).
Creating Categories
You can add additional information fields to collect as much information as you need on your contacts.
To store these, you need to first set up information categories, which will help you organize the information collected and structure your contacts' profile.
You can, for example, structure profiles with 3 different information categories:
General information
Complementary information
Volunteer information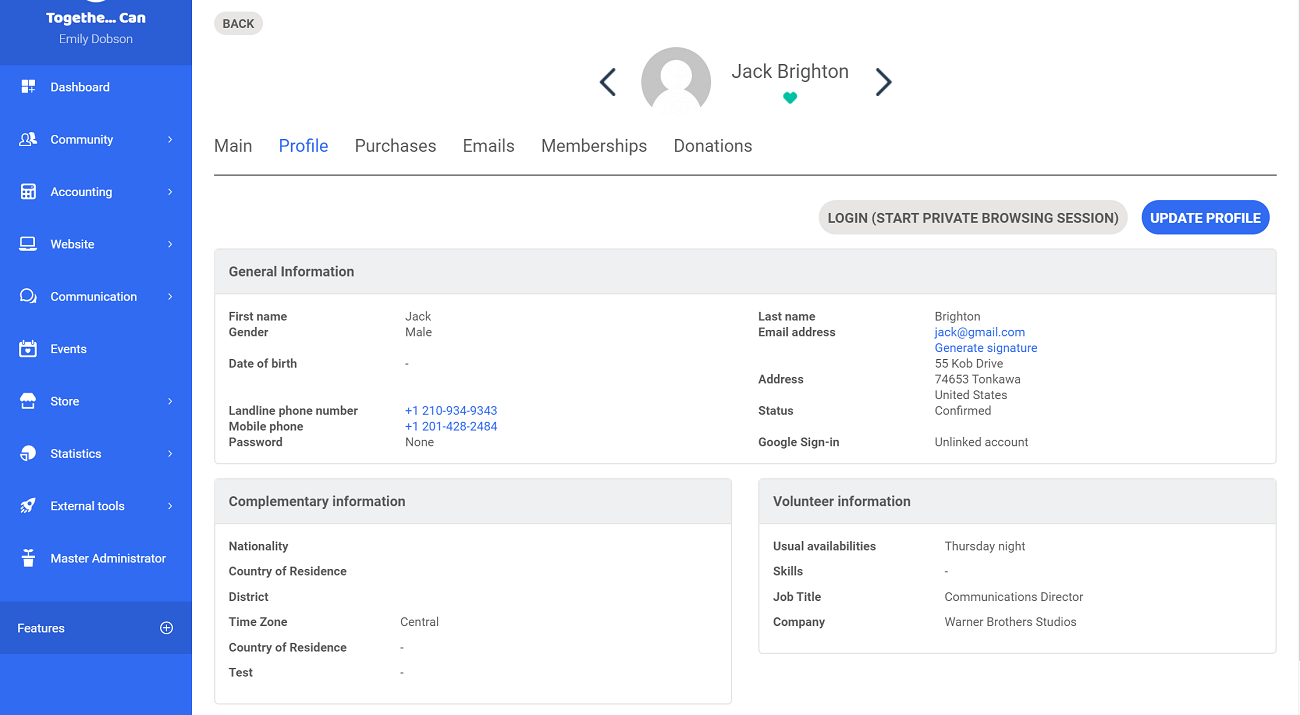 To set up a new information category, head over to Community > Settings.
If this is the first time you are creating a new information category, first click Add a Field. You need to start by adding a new field, which will automatically create your first new category.
If you've already created new fields before, you can skip to the next step.

Once this field is created, you can Add a Category.

If you need to gather specific information only on members of a specific group, you can limit a category to a group. The information fields of that category will then only be asked to the members of that group.
Creating Information Fields
Creating Information Fields
Once you've created information categories, you can start adding new information fields.
If you have not yet created a category, click on the Add a Field button. The field created is automatically attached to the Complementary information category. If you have already created a category, click on add a field so that this one is attached to it.
To optimize the search tool, the number of characters in text with suggested pre-saved values (autocompletion), text and email fields, is limited to 53. This should leave you plenty of space for your contacts to fill in all their information.
Different Types of Field
Once you've clicked Add a Field, a window should pop up allowing you to choose the field's name and type. Choosing the type of field gives you the possibility to adapt each one to the type of information collected.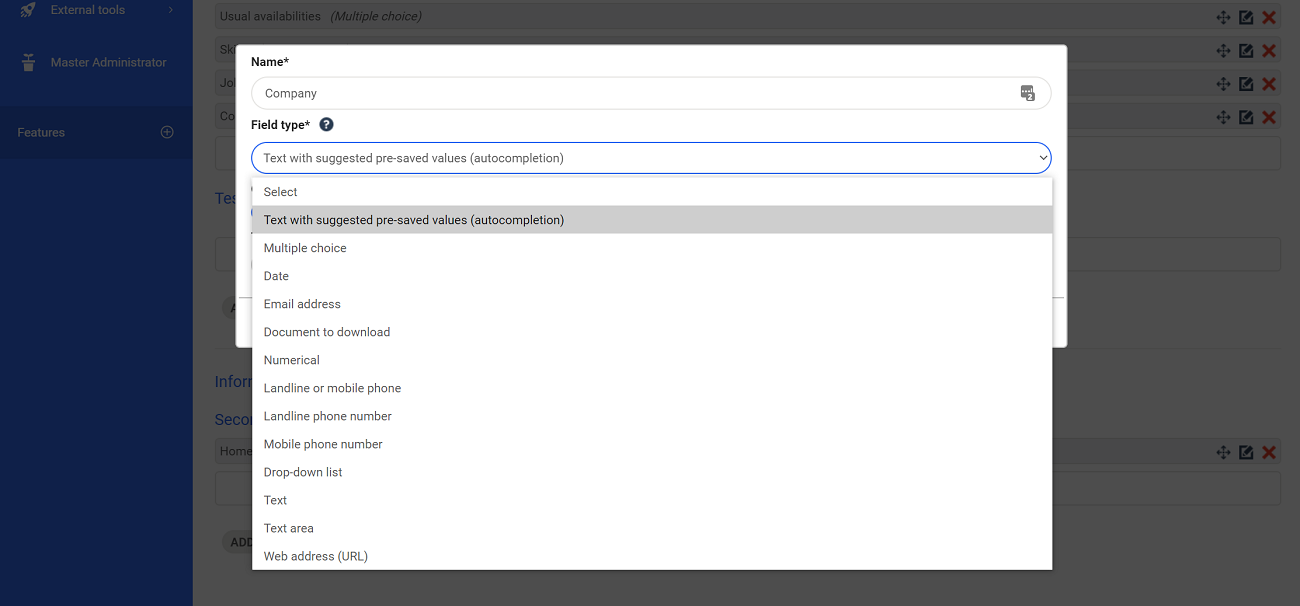 For example, if you select text instead of date, you can enter the values "1st January 20X2", "01/01/20X2", and "01/01/X2". Selecting the correct field type will lead to clearer and unified data.
In the same way, if you select the email address or landline or phone number, you will be assured that the information entered is done so in the correct format. The different field types are explained below.
Fields Shown During a Re-Registration
When someone registers for a campaign or an event, the software only shows the information that has not already been filled out on a previous occasion by the contact. This allows them to have fewer fields to fill in, simplifying their overall registration!
If there are fields that have already been asked in the past to registrants and that need to be asked again, contacts can update these fields from their profile page. This is useful for example if your nonprofit offers classes, your contacts probably won't want to follow the same ones as they did last year.
If it is not possible for them to modify this information from their profile page, you can create a new field to collect this information. This field will be empty and will therefore be asked when they re-register.
For this reasons we advise you to delete and recreate these fields at the end of the registration period. You can otherwise create a field per period ("certificate 20X8" and "certificate 20X9").
The Different Field Types
Text
The text field allows you to store basic text, whether it be letters, numbers, punctuation, etc. We advise you to use this type of field to store short texts. If not, you should opt for a text area, explained below.
Text Area
The text area has the same characteristics as a text field. However, it is optimized to store a lot of words: it is larger than the classic text field, and is extendable.
In this field, you can enter approximately 65,000 simple characters (letters from A to Z and numbers). Special characters (such as é,è,', etc.) can take up the space of up to 4 simple characters.

Text With Suggested Pre-Saved Values (Autocompletion)
This type of field has similar characteristics to the classic text field. The difference lies in the fact that the software will store all the possible values that can be used. Thus, when a person is typing out their text, if a similar answer has already been filled out, this will appear as a suggestion.



Numerical
This field allows the user to answer with numerical values. We advise you to use this field if you have information in a number format (i.e. height in feet, number of donations, etc.).
This field will allow you to carry out optimized searches, where you can sort through profiles using this data by selecting: strictly greater than, greater or equal to, strictly less than, equal to, different from, between 2 values, etc.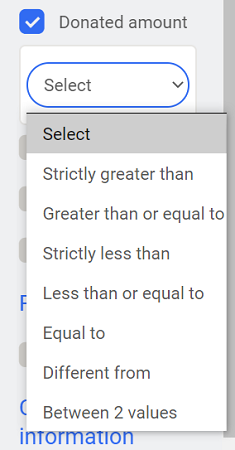 Multiple Choice
With a multiple choice field, people can answer by selecting one or more of the values that have been set up beforehand.
For example, if you create an information field "favorite sport", you can add the following values: tennis, football, etc. People registering will only be able to chose from those values.
To do this, choose multiple choice from the drop-down menu in the pop-up window, and add the possible values. If you have a lot of values, it is possible to import them from Excel. Make sure the values are in the same column in the Excel file, then copy & paste them in the according field.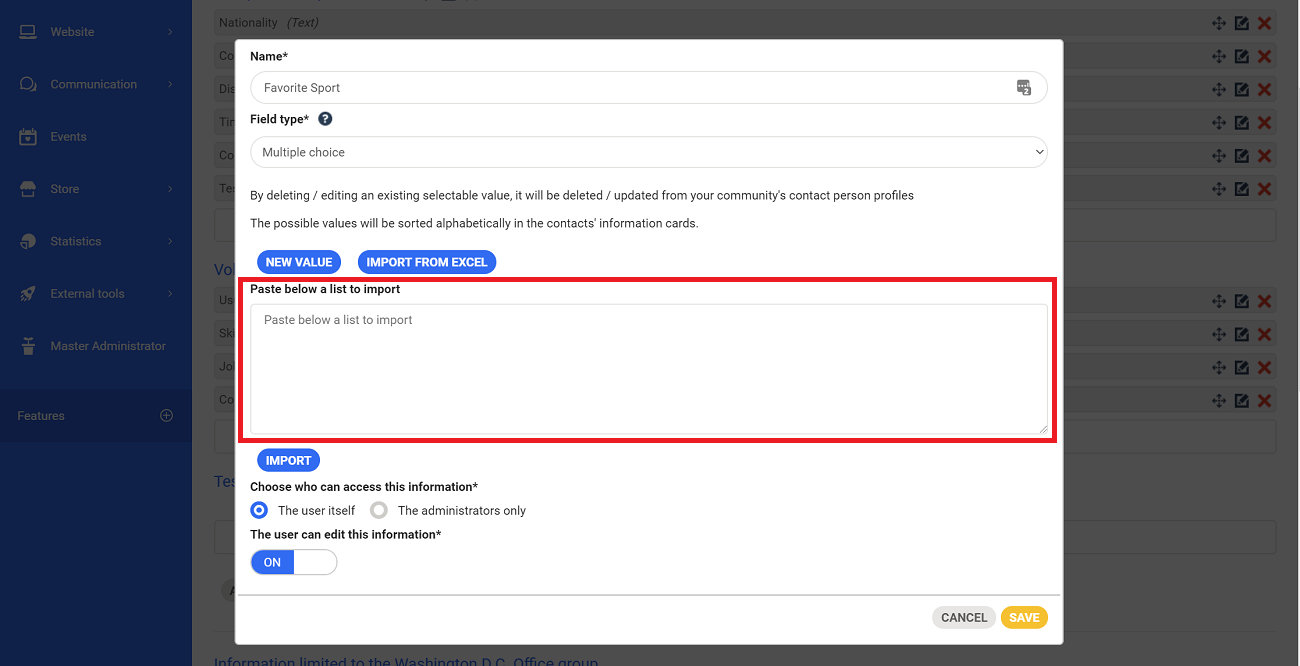 This field also allows you to do an advanced search using your contacts answers: you can then search within your CRM for contacts who have all of the selected values, only one of them, or none of them.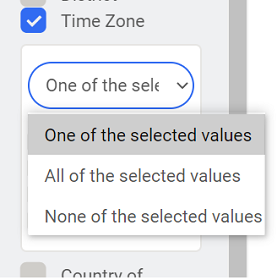 Drop-Down List
This field is similar to the multiple choice, with the only difference being that one value alone can be selected.
If we take the previous example of the favorite sport, the registrant could only choose one sport from the list (either tennis, or football, or another value from the list).
Date
This field allows contacts to enter dates in the format of DD/MM/YYYY or MM/DD/YYYY.
It is not possible to store hours in this field.
Once the field is created, you can do advanced searches using the information gathered, by choosing from the following options: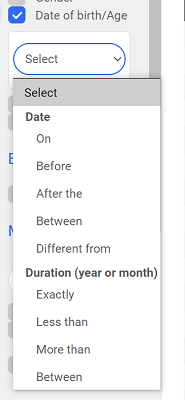 Documents to Download
This field can store documents that the registrants will have uploaded. You can then export these documents if you need to.
This can be used for example for a medical certificate in our sports example.
Other Fields
Some other types of fields you can choose from include the email, phone, or internet address (URL).
Managing the Access to Each Field
When creating or editing a field, you can choose to make this information visible and/or modifiable by the contact, or keep that access to the admins.

Printing Out a Profile
There is no option to print out a profile in the software. However, if you wish to print it out, you simply need to press ctrl+p or cmd+p and choose "print".