Before Starting
This article will cover the following points:
Modifying a Contact's Information
To modify the information on a contact's profile, you first need to find the person in your CRM, under Community > Contacts. The search and sort tools on this page can help you with this.
Once you've found the contact, click the details icon to access their page.

Once on the person's page, go to the Profile tab and click Update Profile.

Here you can correct any typing errors or update any part of the contact's information. This way, you'll always have the correct data to keep your nonprofit running smoothly!
Updating the Information of Several Contacts at the Same Time
If you need to update the information of several people at once, this can be easily done by importing an Excel file with their updated profiles.
For this, you may need to first export your CRM in an Excel file, which you can do from Community > Contacts. This way, you can directly update or add information fields into an already clean file.
Once you have made your changes in the Excel file, head back to the Contacts page and click +Add > Import Contact Persons.

The process is then the same as that described in the article on adding more than one person to your CRM at once.
To avoid duplicates and to allow the software to recognize that you want to update a profile and not create a new one, don't forget to include the column with the contacts' unique identifier (email, contact ID or unique identifier) in your import file.
Archiving or Deleting a Contact
Did you create a profile by mistake, or do you simply want to take someone out of your CRM? You can easily archive or delete them.
Archiving a Contact
Go to Community > Contacts. Select the people you want to archive by ticking the box beside their last name. Next click the +Options button and choose Archive selected contact persons and Confirm.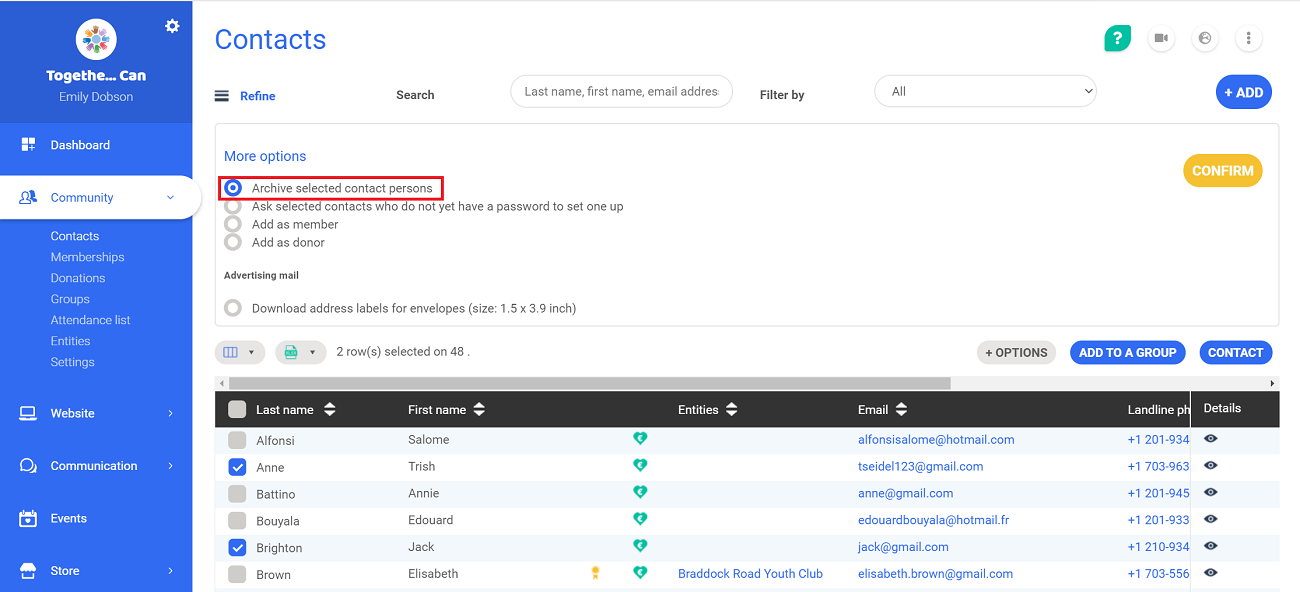 Your archived contacts will now be under Community > Settings > Advanced Settings.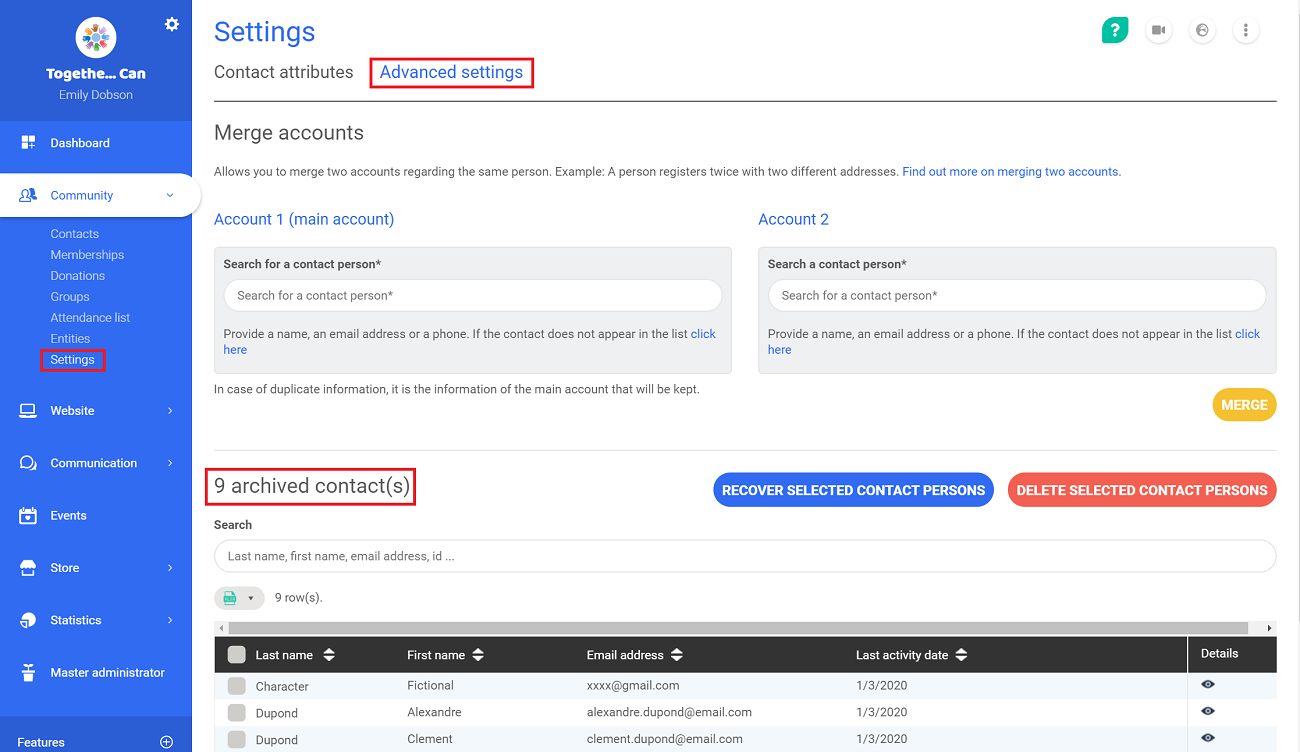 No information on an archived person is lost. On this page, you can choose to restore these contacts or to delete them permanently from your software.
Deleting a Contact
To delete a contact, first archive them, then head over to Community > Settings > Advanced Settings. Select their profile and click Delete Selected Contact Persons.
Be careful, if you delete a person, all of their information will be deleted.
We therefore advise you to not delete people who have been involved in any actions on your software. For example, if they had participated in an event, become a member, donated...
Restoring an Archived Person
Did you mistakenly archive someone? No worries, you can easily restore them in your CRM.
Head over to Community > Settings > Advanced Settings, select the archived person and click Restore Selected Contact Person.
Due to a technical limitation, only the first 1.000 people archived will be shown. However, you can easily access any archived member via the Search Tool.

Once restored, the person will reappear in the list of people in your community.