Before starting
Searching on the Contacts page has many facets. It allows you to carry out simple searches by keywords, sort according to chosen criteria, or even conduct an advanced search according to multiple criteria.
This article will explain how the different search options work:
Simple search
You can perform a text search in the Search bar at the top of the Community > Contacts page. This tool is handy for a quick search of information in a particular person's profile.



This search can be done corresponding to several criteria:
The person's last name, first name, or email address
The address field (e.g. street address, city, state, country), or phone number
The information fields that you have created
This search is done by filtering the results from the fields listed above. It allows typing and spelling errors.
Example: If you search "Michigan", it will provide you with a list of contacts that have something related to Michigan, or a close result, in response to the fields above. You will then be able to see, for example, people that live in Michigan, but also people that live on Michigan Ave in Chicago.

Sort function
On the Community > Contacts page you will see a list of people in your community. The information shown on this page can be altered at any time by the Information to display button in the top left corner of the contacts list. Here you can select which information you want the table to display.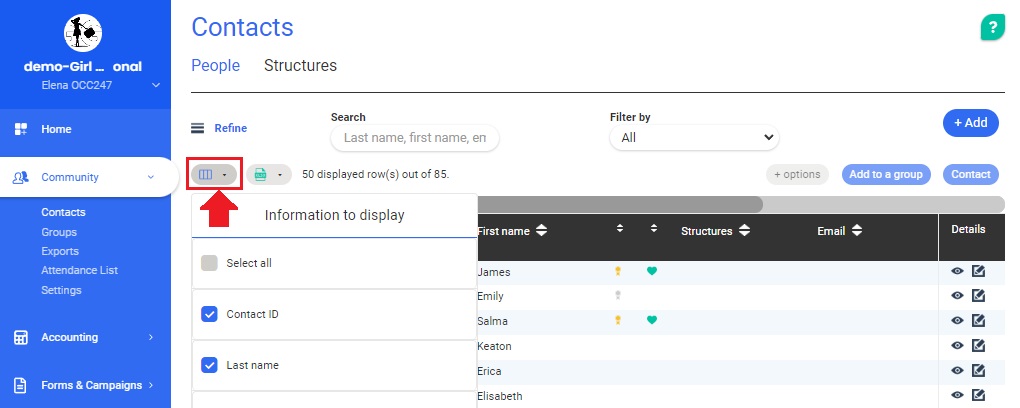 The information offered here is the information that you have set up on the Community > Settings page. It is important to note that the information displayed in the table must be set each time the table is used and is not saved by the software.
To sort this information, you can use the arrows at the top of each column. For example, by clicking on the top one next to "Last name", the table will be sorted in alphabetical order by last name.

Advanced search (Refine)
General behavior
Advanced search (or Refine) allows you to search your database of contacts according to more specific criteria than the Simple search.
It is found by clicking on the Refine button in the top left corner of the page, where a search tool will appear based on several criteria.

It allows you to carry out searches on given values and cross-reference them with different criteria. For example, you can search for people that live in Michigan and that have also been members of your organization for more than 2 years.
Impossible to find a member
If you cannot find a member via the search tool, but you are sure that this person has an account, there are a few things you can do.
Check if the person was archived
If this happens, it is very possible that the member has been archived. The list of archived members can be found in Community > Settings > Additional Contact Actions.
In this case, it is possible to restore archived contacts in case of an error.
Check if the profile has the information you are searching for
If you are looking for everyone that was born between 2001 and 2002, but someone that should fit this criterion is not showing up, it is likely that the field has not saved been saved in the database.
You can check, edit, and create fields at Community > Settings.