The end date of your fiscal year has passed, and you now want to close it. You can close in a few clicks:
1. Go to the Accounting > Closing page

Once this is done, the software will automatically generate the necessary entries to close the accounts and carry them over to the new fiscal year (Balance carried forward entries). In the same way, the expenditure and income accounts will be balanced, and the profit/loss will automatically be allocated (Carry forward).
Check out this article for more explanations of how accounting closure works.
This article will cover the following points:
When to do your accounting closing
To close, the status of the fiscal year must be: "completed and not closed," i.e.:
That the end date has passed
The previous fiscal year was closed
We speak of closing when an old accounting period closes, and another one opens.
Although it is best to close the accounts quickly, it is not necessary to do so immediately. You can indeed work on two accounting periods together.
Closing in a few clicks
Once you have made your adjusting entries, if required, you can close your accounting period. To do so, click on Go to closing the year.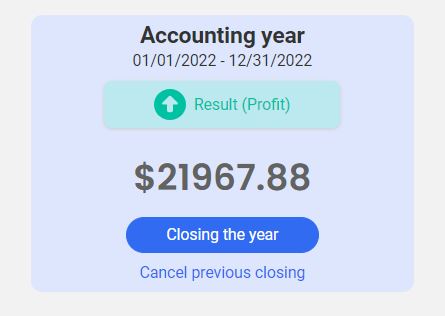 That's it; your closing is effective. You can consult your documents (Balance Sheet, Profit, and Loss Statement, Journal of Balance carried forward entries) which have been updated to present the organization's annual accounts.