Before starting
To record your cash transactions or bank transactions in accounting, you must first create these accounts. This article explains how to do this.
This article covers with the following points:
Creation of bank accounts
How bank accounts are managed

This is a type of financial account, which is moved by payments related to your organization's expenses and revenues. It is the equivalent of your bank statement from an accounting point of view.

For each account created from the Accounting > Settings > Bank page, the software adds an account of type Bank Account - "bank name", where the bank name corresponds to the name of your bank account.


You can add as many bank accounts as you wish.
Create your account
You can add a new bank account on the accounting > settings > bank page.
Then click on Add a bank account

Then fill in the name of the bank account (e.g. Current Account) and the account information (Owner name, routing number, account number, and Bank name).
This information is not mandatory (unless you wish to use the online payment system), but it has the advantage of being included in the check remittance form.
Click on Create an account: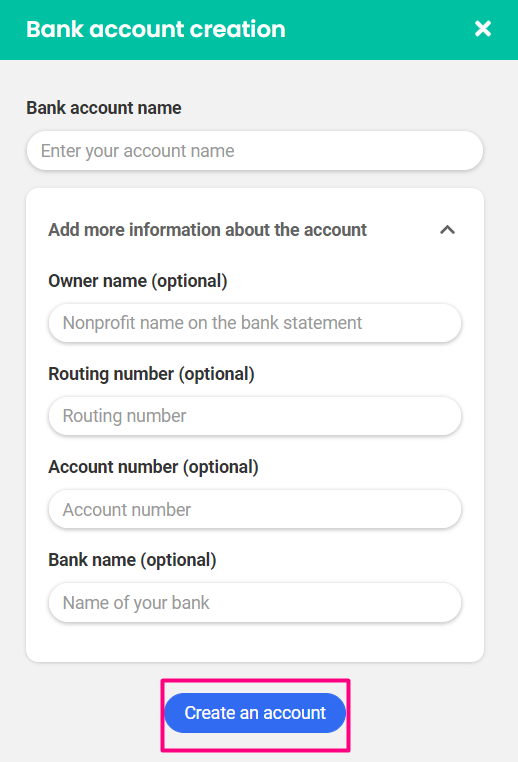 You can add as many accounts as you need (current account, savings account etc...)
Delete a bank account
Where to delete an account
To delete a bank account, go to the Accounting > Settings > Bank page, click the delete icon.
When the delete icon is grayed out, it means that it will not be possible to delete the account. There are several reasons for this blocking.
Account used for online payment
If your account is already certified and is used to receive transfers for funds collected online, then it will not be possible to delete it.
Accounting entries related to the account
The account can be deleted only if it and its cash account 531XXX are not linked to any entries. Do a "transfer of entries from one account to another" from Accounting > Settings,
This will have the effect of transferring the entries linked to the account to be deleted to another account. This manipulation is only relevant if these entries were not actually linked to your bank account. Otherwise, do not transfer these entries in order not to distort your accounting.
The other method is to delete the entries linked to this account. Also, we only recommend this if these entries were entered by mistake and/or if they are not necessary for your organization's accounting.
Account used as a means of payment
If your account is used as a means of payment for your subscription, you will have to change the means of payment in order to delete this account.
Bank operations
You will also have to delete the active reconciliation statements as well as the transactions imported on this account.
Archiving a bank account
We advise you to archive an account in order to keep the history of the entries related to this account in the accounting.
To archive, an account, click on the archive icon, then confirm.

By archiving the account, it can no longer be used for data entry, but it will be displayed in the accounting documents. Your entries will remain linked to this bank account.
Once your account has been archived, it will be grayed out in the list of your bank accounts:
Example: this account has been archived:

You can also unarchive the account if needed: