Before starting
You have just recorded a payment by check. It is in an intermediate situation:
It is in the checks pending remittance in Accounting > Bank > Check Remittance.
Furthermore, it is linked in accounting to account Checks awaiting remittance
The purpose of the check remittance is therefore twofold:
To automatically generate a slip to be remitted to the bank.
To link the entry to an account Bank following the recording of the remittance.
It is therefore important to properly remit the checks to the bank so that the entry is linked to a bank account. For example, a check not deposited in the bank will not appear in a reconciliation.
This article discusses the following:
Generate a check remittance
You have recorded several revenues paid by checks from Bank Entry >Revenue and now want to do your check remittance.
Go to the Accounting > Bank > Check Remittance page.
Once on this page, here's how to deposit the checks on your bank account:
Select the checks you wish to remit to the bank;
Choose the date of deposit and the account you will deposit the check into;
Click Save the check remittance: your check has been deposited.
Once the checks have been deposited, they will appear in the Remittances already deposited list at the bottom of the page.

To view the remittance form containing the details of the remittance, click on the Detail icon. A PDF will be generated with the list of related transactions. You can then print this remittance and attach it to the checks when deposited in the bank.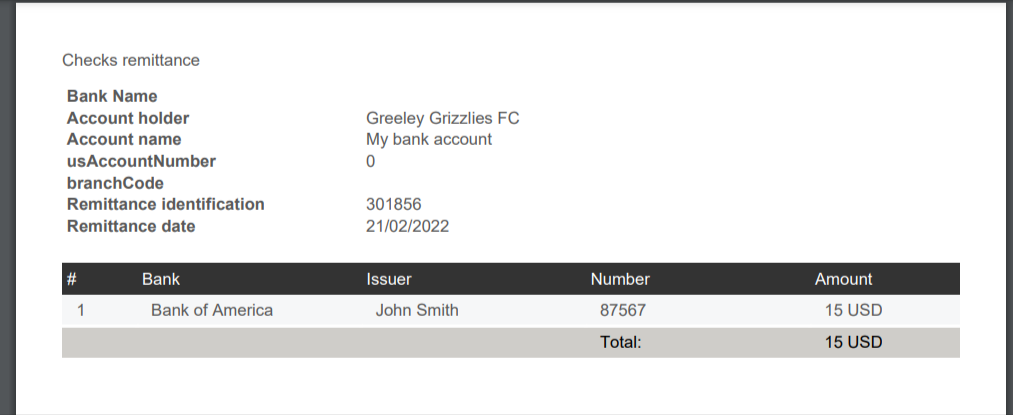 Change the date of the check remittance
If you have deposited your check remittance, but entered the wrong remittance date, here's how to change that date.
Select the remittance you want to change, then click on Change Date. A New Date field will appear where you can enter the new date and click on Save New Date.

Deleting a check remittance
If you made a mistake in your remittance or a check was remitted in error, you can delete the remittance without distorting your accounting.
Delete an entire check remittance
Select the bank account to which the check has already been deposited. Then select the relevant remittance from the list of Remittances already deposited in the bank. Once you have selected the remittance, click on Cancel Selected Remittances.
The remittance has been deleted: your checks related to the remittance are back on the list of checks awaiting remittance, and the remittance entry is deleted.
Deletion of a check remittance already deposited in the bank
Deleting a check that has already been deposited in the bank will cancel the linked check deposit. You will need to re-record the check remittance.
Importantly, deleting a previously deposited check will cancel the entire deposit. All checks linked to the remittance will be added to the list of checks awaiting remittance. Note that it is not possible to remit a check if the fiscal year is closed.
To go further
We invite you to consult the articles on the following topics:
Perform bank reconciliation