Before starting
Certain general accounts, the third party accounts, can be broken down into subsidiary accounts. These are essentially customer and supplier accounts. This subdivision will allow a better accounting follow-up of invoices and payments for each of your third parties.
In this article, we will discuss the following points:
All about sub-ledger accounting
In accounting, a subaccount is a subdivision of a G/L account. In practice, sub-ledger accounts are only created for third-party accounts, i.e. Accounts Payable, and Accounts Receivable.
If you have regular suppliers or customers, this function will allow you to improve the follow-up of payments for each of the third parties. You will be able to :
Easily identify uncollected customer invoices and/or unpaid supplier invoices.
Easily identify duplicates for each customer/supplier account.
Activating sub-ledger accounting in the software
If you have a large volume of economic flows, and some important third parties, it can be useful to activate the sub-accounting functionality.
Activate the auxiliary accounting
To activate the functionality, follow these steps:
Go to the Accounting > Settings page
Here you have two options:
Either you activate the Shaolin level which automatically offers you the sub-ledger. To do this, click on change next to the current level of your accounting.
Or you can click on Refine settings, and there you can activate the sub-ledger accounting while remaining in the Ninja level, for example.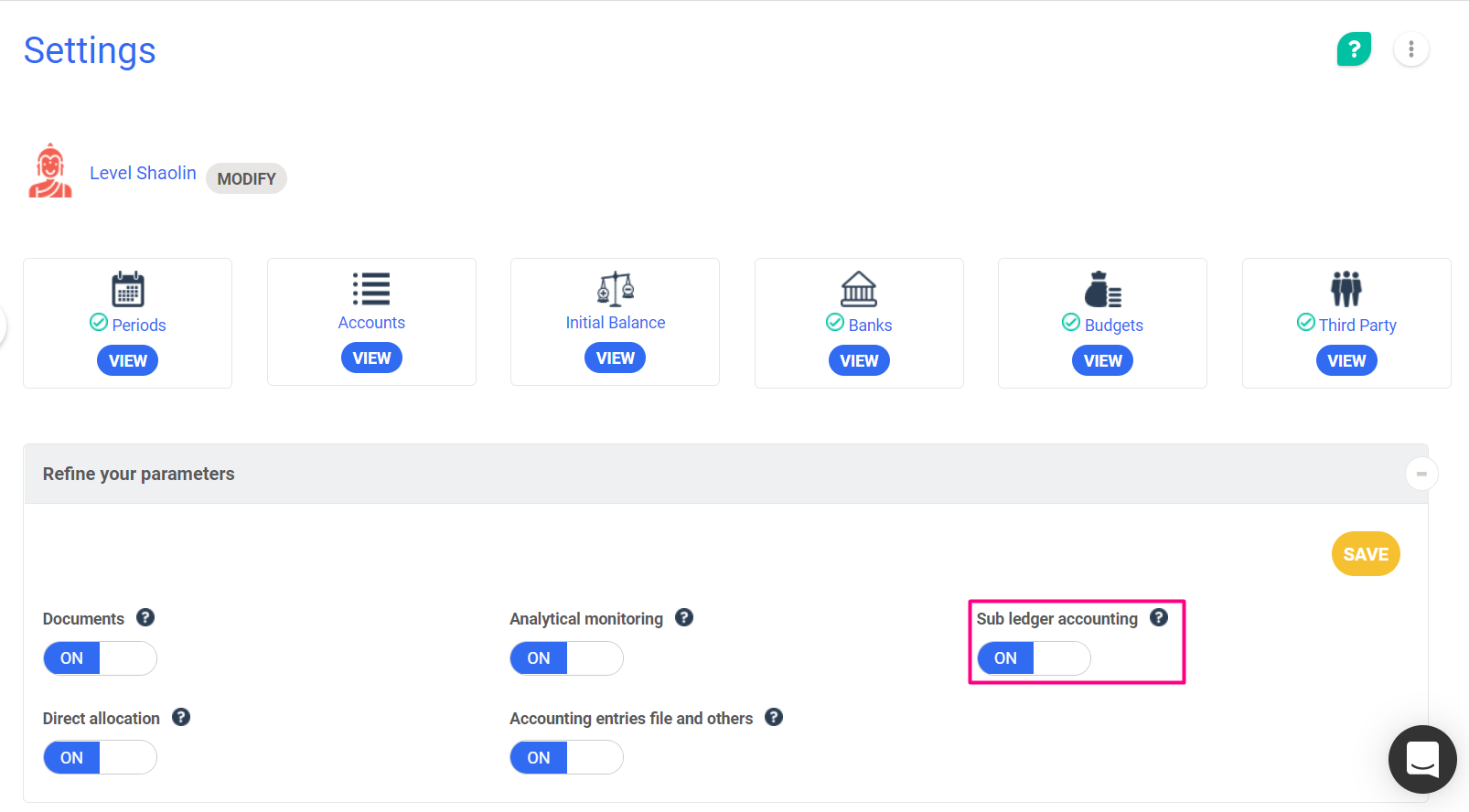 Create the third parties
Once the auxiliary accounting has been created, you can create the third parties for which you want to have a follow-up. To do this:
Go to Accounting > Settings.
Click on the tab Third parties

By clicking on it, you can register suppliers and customers. The two mandatory pieces of information are the name of the third party and its status (supplier/customer).
Your sub-ledger is now ready to be used. You can now enter entries by linking them to a third party. To do this, check the box "link to a member or a third party" when recording an entry.
In the "Documents" section of the accounting, you will find the client and supplier general ledger in the General Ledger options.
How the sub-ledger works in the software
Principle
The "sub-ledger accounting" feature will allow you to link certain accounting entries to a third party. The software will not create subaccounts for each customer/supplier but will allow you to generate a customer or supplier ledger in Accounting > Documents > General Ledger to track each subaccount.
How it works
Once the feature is activated and your first third parties are created, you can start to attach your entries to the different third parties, and follow the accounting status for each subaccount.
Let's take an example. You have supplier A, for which you want to have an accounting follow-up.
You have created this auxiliary account in Accounting > Settings > Third parties.
Furthermore, you receive an invoice for $2000 to be recorded in the software.
Go to the tab Accounting > Book Entry > Expense and fill in your expense.
Check the link to a person or a third party function, and go and find your supplier in the Supplier field.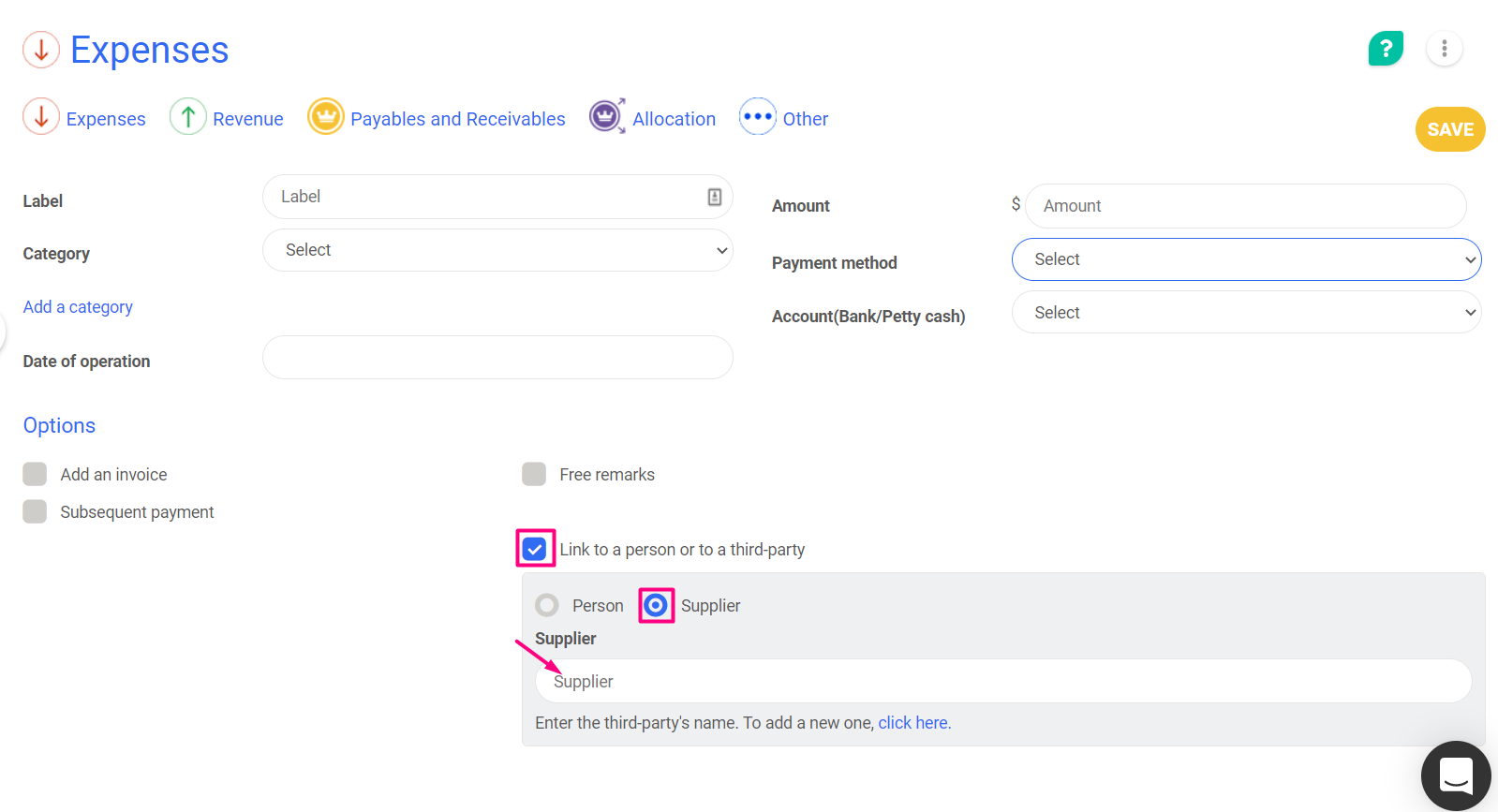 Once your invoice has been recorded, you will be able to find in the Accounting > Documents > General Ledger, the entries related to your suppliers, and more specifically to your supplier A.

If you do the same for all your suppliers and customers for whom you want to create a subaccount, you will then have an accounting statement for each supplier, and thus know if the balance of the account is debit/credit /zero.
The operation is the same for the customers.