Before Starting
You can publish and update your website without having any technical skills. Discover how to personalize your theme, create pages, add menus and organize the structure of your website in this article.
This article covers the following points:
Basics of the Website feature
Main Idea
Managing your website brings together two aspects:
The domain name: This is the web address (URL, starting with https:) that allows you to display the content of the website when entered into the search bar.
The content: This is composed of the themes, menus, and pages that are created through the software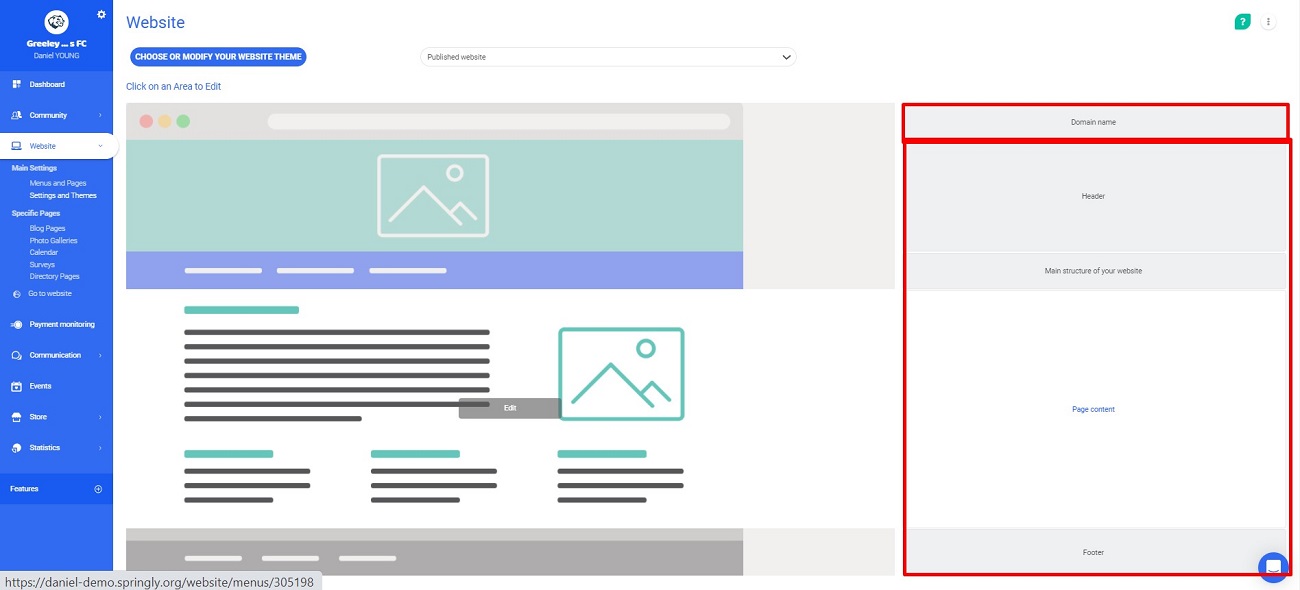 You can publish your website using the domain name given by default. This is in the form of "my-nonprofit.springly.com", or "my-nonprofit.com".
How it works
The domain name can be personalized by modifying the part "my-nonprofit" in the URL, or by linking a domain name that is personalized to your website.
Now, regarding the content, it can be edited by creating:
Pages, that can be specific, based on a model, or customized.
Themes and website structure, that you can adapt as much as you want.
A design for the footer and header of the pages.
Main functions
Customizing your Domain Name
By default, a domain name in the form of "my-nonprofit.springly.org" will automatically be assigned to your platform. If you wish, you can link a custom domain name to your platform. It can be either:
One that we buy and manage for you
One that you have already purchased that can then be linked to your platform
Personalizing your Website
In order to create a website that fits your nonprofit, you can choose a theme and define the design of the website overall. It is also possible to modify more advanced parameters, such as the main colors, the menus, or even the background.
Other elements that can be customized include:
The design of the header and footer
The favicon, which is the icon next to your URL
Creating pages
The easiest option to start is to create specific pages. These are based on a template or usage (blog page, calendar, etc.) and does not require any formatting.
To go further, you can create personalized pages, that you build from A to Z. Here again, the setup is made easy so that you can directly place elements on the page. In particular, you can add:
A background
Text blocks, images, and videos
Buttons to redirect the visitor to another page
Managing the Website's structure
By creating menus and placing your pages into them, you will create a structure for your website. It is possible to arrange the order of the elements depending on your needs.
The visibility of your menus and page can also be set individually in order to limit the access of certain sections to certain groups or categories of people.
Setting It Up
Publishing your Website
You can check the status of your website by going to Website > Settings and Themes.
By default, your website is visible to all, which means it is automatically set as Published website. If needed, you can select the option Site under maintenance, which will show a page explaining that your website is temporarily under construction and not visible for the time being.

Managing your Sign Up/Sign In page
At the bottom part of Website > Settings and Themes, in the Other Options section, you can manage your sign-up and sign-in pages:
In Registration page & profile page, you can allow potential participants to create an account on your software, and just like when creating a campaign or a ticketing event, you can configure which information to gather from each user.
In Login page, you can customize its design.
In Authentication system, you will be able to connect or restrict the sign-in to a specific domain.

If you are a member of an Independent Advanced Group, that has activated the option to have your own website, you will not have the Website options (Favicon, Sign up page, Google Analytics, etc.), as these settings are only available on the main platform.