Before Starting
The Memberships, Donations, Events, and Online Store features allow you to record transactions, manage registrants and collect payments.
Below, you will find a list and overview of the major features and functions. For more information on each, please, visit the linked articles under each subtitle.
This article covers the following points:
Discovering the Transaction features
Main idea
There are 4 features across Springly that can generate transactions. These are:
Memberships
Donations
Events
Online Store
To simplify the use of the software, the ergonomics of the 4 features are very similar. In other words, you will easily be able to create a ticketing event if you have already launched a membership campaign, as the steps for each case are similar at the core.
These 4 features allow you to save transactions in two ways:
Online Sales
An online campaign/sale will be published on the website or accessible via a link. Your community or the public (depending on your visibility settings) will be able to access it. People will be able to register and pay their fees by choosing a payment method among those offered.
As an admin, you can also manually register participants.
Offline Sales
An offline campaign/sale will not be visible on your website, and participants can only be manually added by admins.
Whenever you create a Donation campaign, Event, or sale from the Online Store, you will be able to choose between these options: Online and Offline.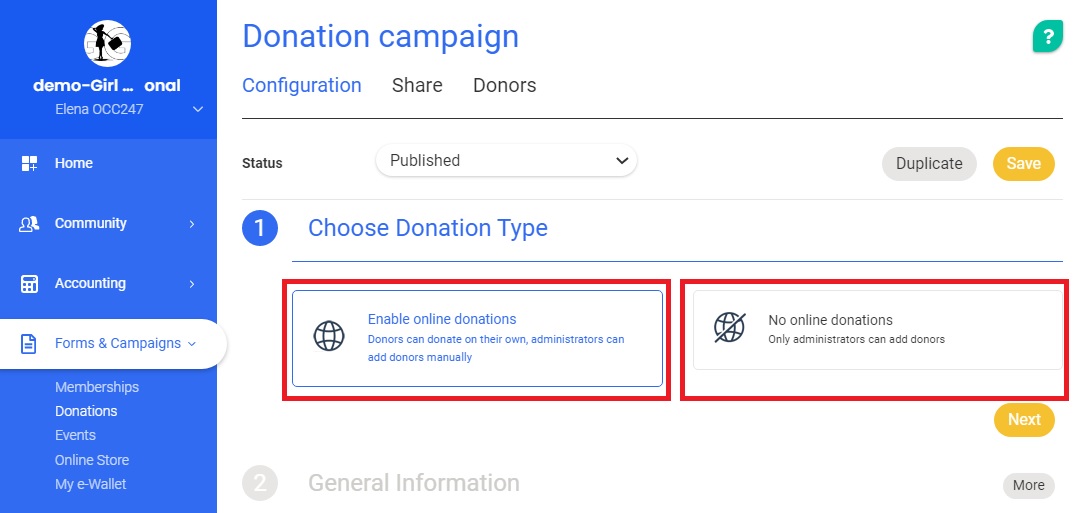 How it works
Your campaigns and sales are listed on each of their associated pages, and you can find all of them on the menu Forms & Campaigns.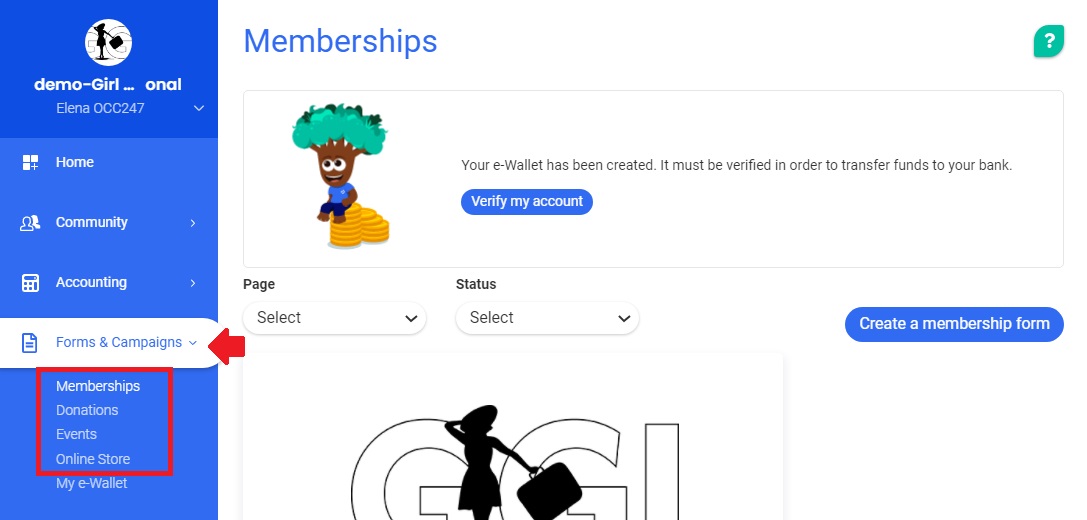 In each feature, you will find a list of all the ones that are Published, ordered by creation date. To see those that are Archived, simply select this option in the Status drop-down list, at the top of the page.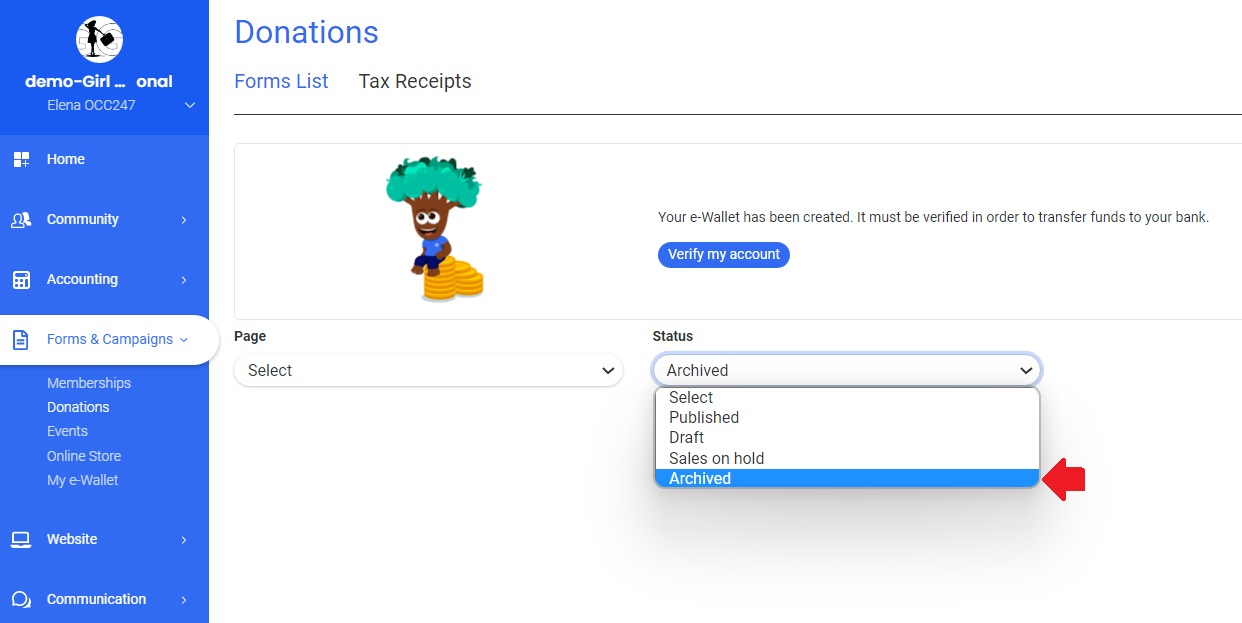 You have the possibility to duplicate, view or manage each campaign/sale. To access these options, hover your cursor over the campaign/sale.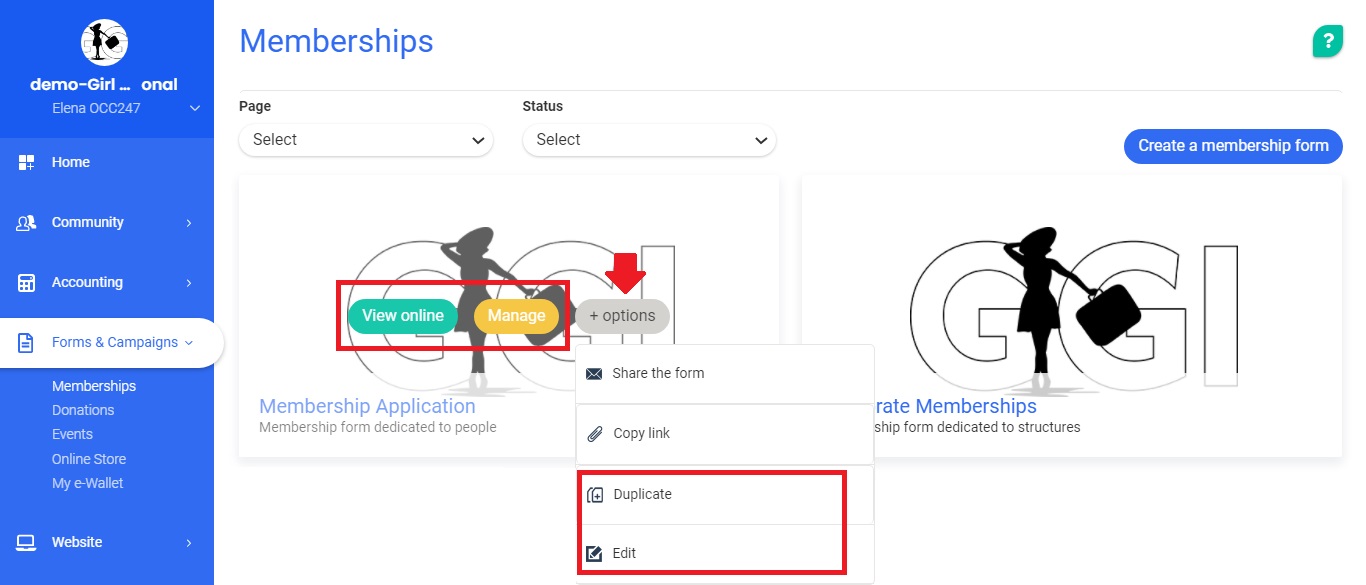 To modify your campaign, select manage. The page will then display 3 tabs:
Configuration, to set up the campaign/sale.
Share, that holds the publishing links.
Members/Donors/Attendees/Buyers list (depending on the feature), that provides an overview of all the transactions.

Additionally, in the Configuration tab, you can manage the status of the campaign/sale via a drop-down list located at the top of the page.

Main functions
Memberships
Once your membership campaign is launched, you can manually add members. If needed, you can also import multiple contacts via an Excel import. You can find more information here.
Donations
In the same way, you can create a donation campaign, and add donors one by one or multiple via an Excel import.
Events and Online Store
Creating a ticketed event or online store follows the same steps as a membership or donation campaign. Here you can also manage your stock, under Online Store > Stock Management.
Managing Sales/Registrations
The transaction features allow you to have a complete overview of all online and offline sales/registrations. If you wish to, you can also collect payments using your online account.