Before starting
The "consolidating payments" feature will allow you to merge/consolidate several entries together.
This article explains the use cases that this functionality supports, how to merge these recorded entries, and what to do if the entries are not yet edited.
Use cases
One payment for multiple purchases

In this particular case, it is quite possible that a member decides to pay for their membership and the purchase of their equipment with a single bank check. To properly record the payments on the platform, it is first necessary to record the membership and equipment purchase acts separately and link them to the buyer. Then you will be able to combine the two entries together and record a common payment.
A family registers several children (with discount) and wishes to pay with several checks
This situation is quite common in sports and cultural associations, but could perhaps be common to many others. A mother wishes to register her three children for music lessons. This mother wants to pay the total amount of the registration in several installments. If this person has done this online, you will only have to go to the transaction details and register new payments.
However, if you have to register manually, it is better to register the three children separately, linking them to their mother's profile, while indicating personalized discounts corresponding to the family rate. When you have done this, all you have to do is go to the debts and receivables section, group the transactions together and add checks as a payment method.
Partial refund/debt write-off
A person owes you $100 (for the registration to an event, for example) and he/she has already given you $30 but refuses to pay you the rest. Since the $70 will never be collected, you must declare it a "loss". You then decide to enter a loss in the accounting - or credit if it is an overpayment - in the "book-entry" menu, link it to the person who wished to register, and group it with the initial entry for the registration.
Managing volunteer expenses
A volunteer/elector has advanced expenses. He/she would like not to be reimbursed for the expenses advanced and would like to turn this amount into a donation. To solve this case, you have to go to the entry part of the accounting, record a donation, and group it with the expenses that the volunteer has collected.
Unaddressed cases
The purpose of this feature is to group entries for which there is a common payment. It is not to group entries into coherent groups.
For example, if you have made several expenses for an event, there is no reason to group them together. In fact, these expenses are not linked to each other by the same payment. If you want to track them by project, you should use cost accounting. The same applies to revenues: you should not link revenues that are not linked by the same payment.
To group receivables together or debts together, they must be :
Linked to the same buyer (customer or supplier)
Or linked to a person in your community
In the general case, it is forbidden to offset a debt and a receivable from a third party. It is therefore not possible to group entries for which a third party is both supplier and customer. Instead, enter a payment for each debt and receivable entry.
Payables/ receivables are already recorded
To consult the list of payables or receivables that are already registered on your platform, you need to go to the Accounting section and then go to the Entry mode. The page shown in the screenshot below will open, then click on the "Payables /Receivables" icon:

The page below is displayed:

Once you have entered the search parameters and clicked search, you will find a display of payable/receivables. We want to group the payments for this $150 membership and this $15 event registration.

To consolidate the payments, you have to select the concerned receivables (check them on the left) and then click on the "consolidate payments" button on the right.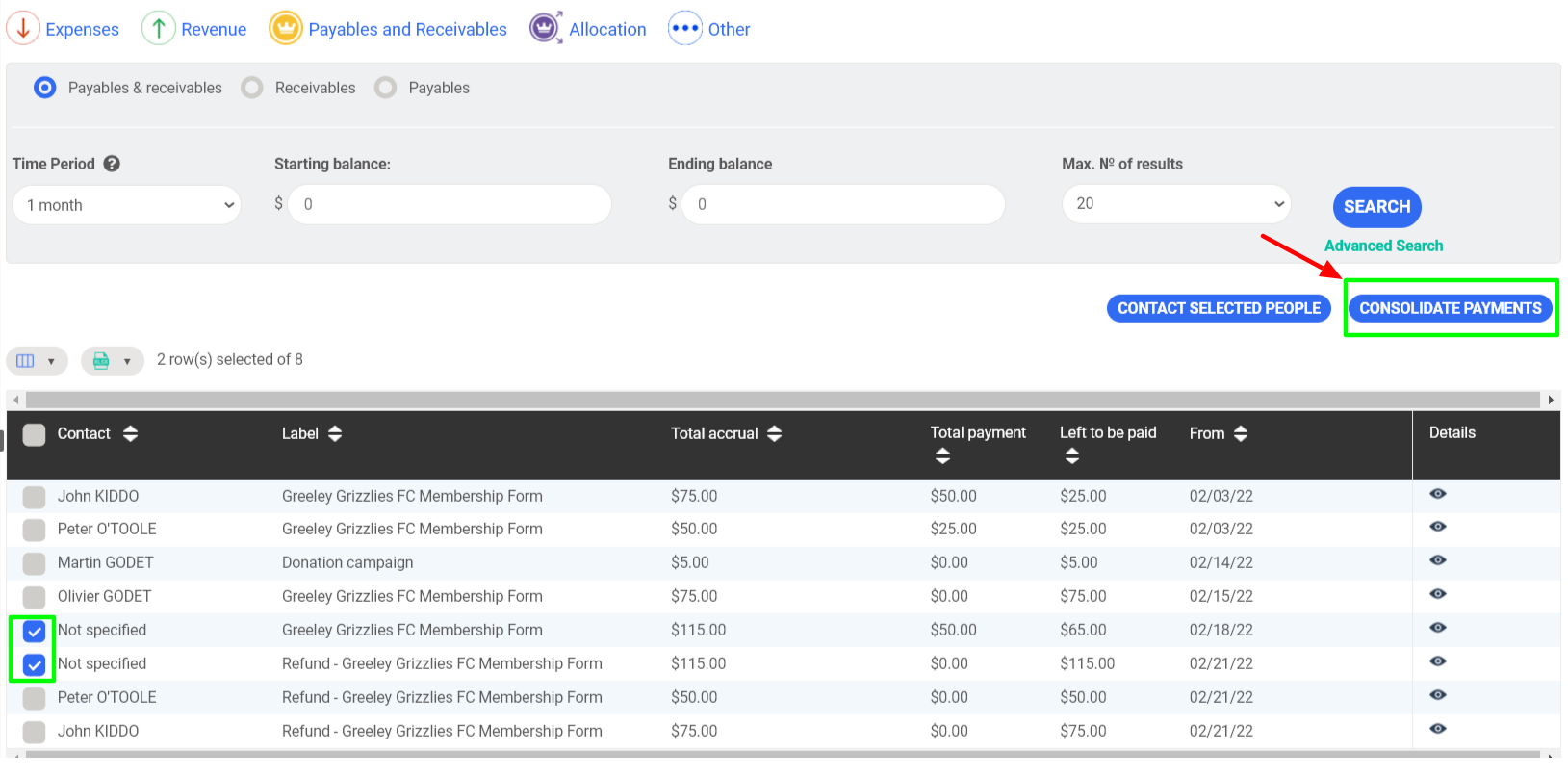 A single line containing the selected receivables will appear. The payments are now grouped together. The total amount displayed is the sum of the consolidated payment amounts ($1000 + $40 = $1040).

To add a payment, click on the details and then on the "Add a payment" button.

Next, you need to fill in the payment information (Date, Amount, Payment Method, Account) that you want to save and select the "Payment Received" option. Finally, click on "Save".

Please note: You can ungroup the payments afterward if you wish. You must click on the line details (icon representing a small eye) then click on the "Pay separately" button. Your payments are then unbundled. We are back to the initial situation with two separate lines.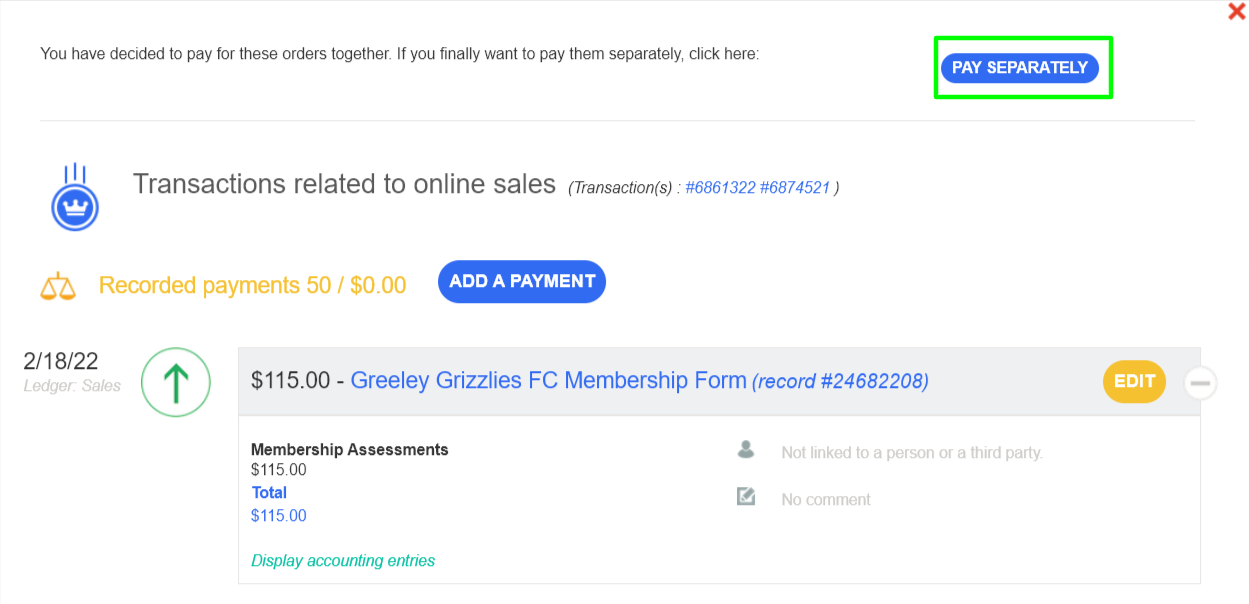 To link a receivable and a payable together, the payable must be a refund recorded in one of your membership / donation campaigns, events, or online store.
For example, someone was supposed to attend an event, but no longer wants to, so you can reimburse them from the event.
If the entries are not yet recorded
If you wish to combine two payments that have not yet been recorded, you must indicate them as subsequent payments and then perform the method indicated above.
Payment is linked to a ticket (membership, donation, event)
At the time of registration of the entry, the last step concerns the registration of the accounts. Check the box "subsequent payment": the payment will be found in the list of receivables.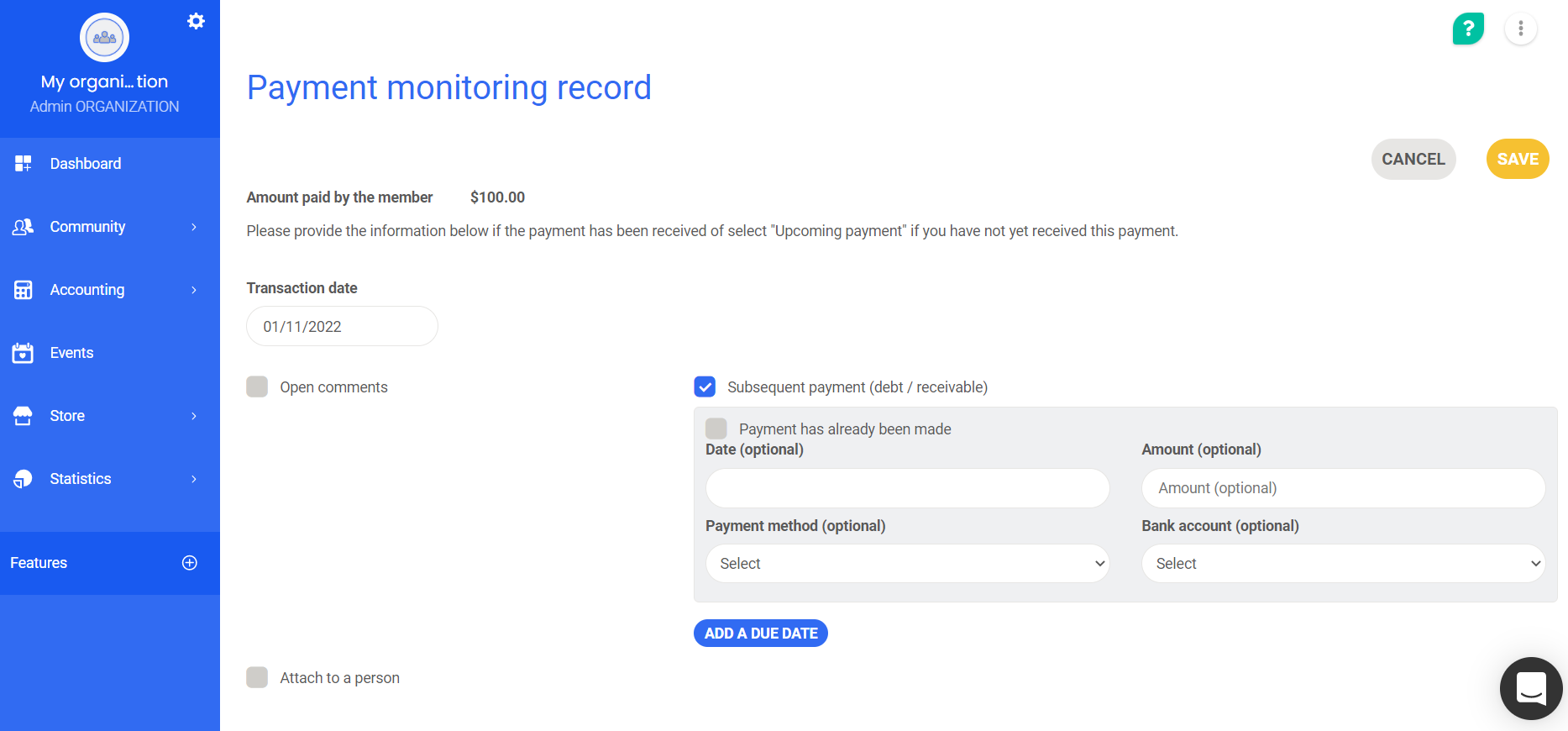 The payment is not linked to a ticketing system
Then go to Accounting > Book Entry, then Expense or Revenue to register the payment. Again, click on "Subsequent payment": depending on its nature, the payment will be found in the list of payables or receivables.
You have an error message
In this section, we present the error messages that you may encounter when using your platform.
You can't consolidate expenses and revenues.
An expense implies that you are going to take money out, a revenue implies the opposite. Therefore, grouping them together does not make sense.
However, one case is allowed on the platform: if you try to link an expense/revenue with an associated refund. This situation corresponds to the case of use concerning the partial refund mentioned at the beginning of the article.
Some entries are linked to a third party: check that they are all linked to the same
Here, we are talking about third parties other than users. Indeed, we can group together expenses from several users, which corresponds to the first use case presented above.
Let's take an example in which this case can be displayed:
You owe $10 to supplier A
You owe $20 to supplier B
Putting these two entries together, you indicate that you owe $30... but to whom? To supplier A or B? This information is not legible and could mislead you. In order to link entries of this type, make sure they are associated with the same customer or supplier, which will simplify your management of third party accounts.
You are trying to group together entries that are too different, which would lead to accounting inconsistencies
If this message appears, you are probably trying to divert the use of the feature.
Please note: it is not possible to combine more than 20 transactions (payables or receivables) into one.
Accounting explanation (technical)
The Springly platform has been created in such a way as not to create inconsistencies in the accounts of third parties. This is why these error messages correspond to blockages in the platform with the objective of avoiding misunderstandings.
We want to make sure that the account will be balanced once the payment is made. Therefore, you should not mix several Assets and Liabilities accounts (third party accounts) but use a single third party account for all these documents.