Before Starting
The Events feature allows you to prepare a sign up form for your events, create electronic tickets, follow in real-time the list of participants, easily send emails, manually add participants and offer preferential rates.
You'll also have the choice to allow participants to register and pay online, saving them (and your nonprofit) time.
Where Can You Create an Event
Head over to the Events feature in the software: you will be able to find all the events you have previously created.
Click on the button Create my event, located at the top right of the screen in order to start creating a ticketing event.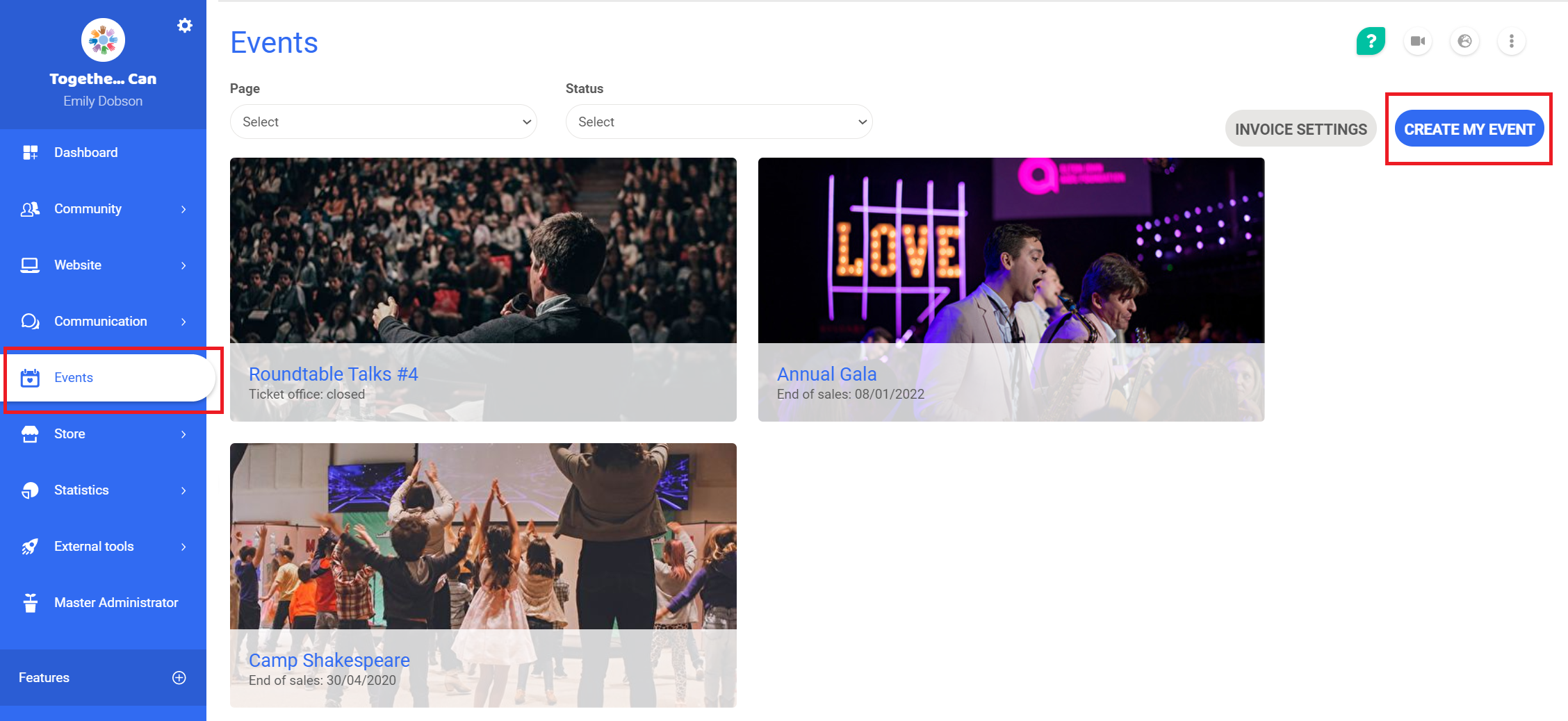 Creating an Event
Once in your event section, there are three tabs:
A form, which allows you to set up what your registrants will see and fill out when signing up
A communication page, which includes the different links and ways to publish the event
A list of your registrants, giving you an overview of the number of people registered and their payment status and type
Choose Ticketing Type
Once on the editing page of the event (the form), you have the choice between creating an event that:
Enables online registrations: Online registrations are possible, and as an admin you can still enter registrants manually
To not enable online registration: You can only add registrations manually if you're an admin
General Information
Start by giving a title as well as a description to your event, also add a photo by choosing a file from your computer.
You can equally, if you have additional information to give, click on the button Add Terms & Conditions and Add Attachments.

Dates
Fill out the registration dates (start and end) as well as the dates of the event.

At the end of the registration period, people will no longer be able to sign up online. However, as an admin you will still be able to add participants manually.
Prices
Next, fill out the different pricing options you offer for the event, as well as providing their details. If you want to add more prices, simply click on the +New button.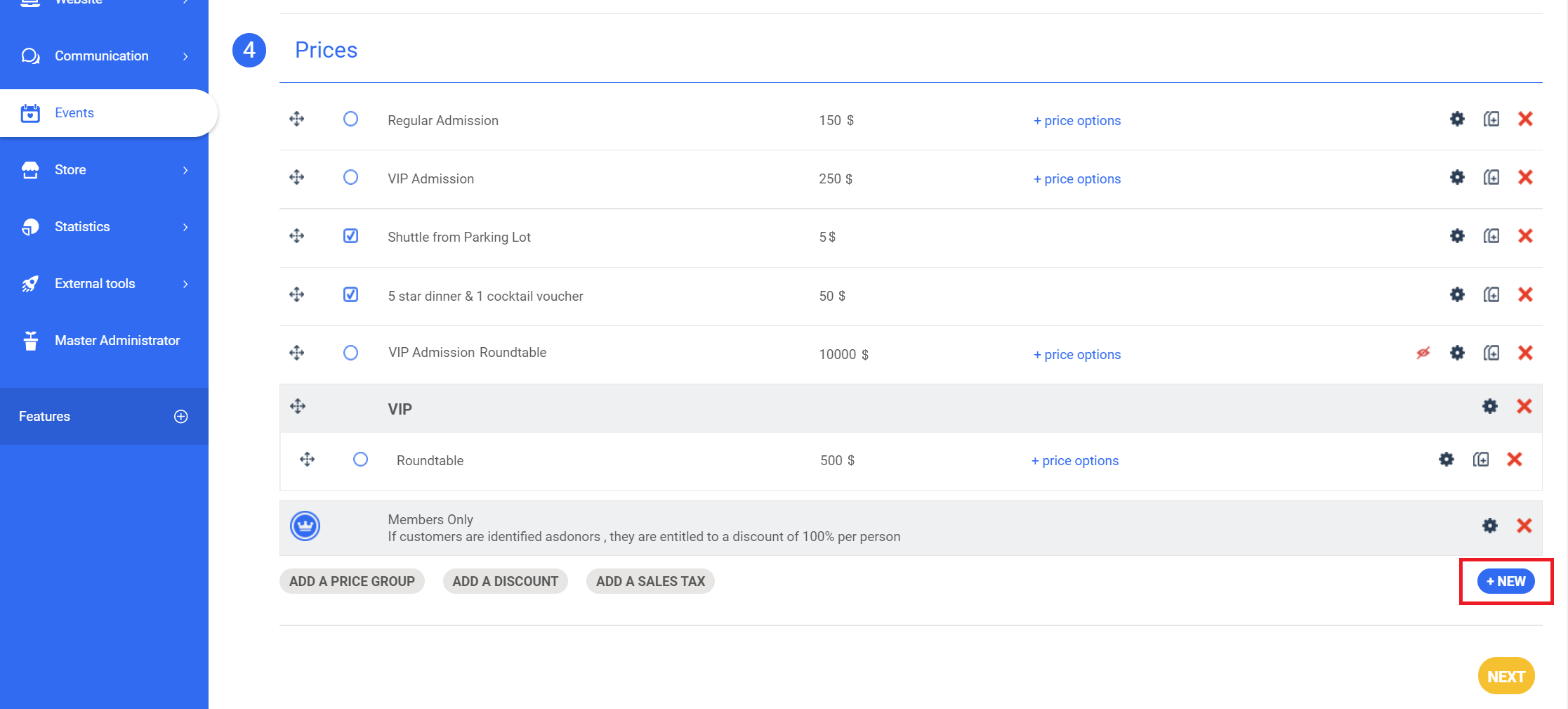 The option Add to a Group is not available for events and store pages. Buyers can buy without an account, it is not possible to place them in a group because they are not always contacts in the community.
Form
This section is useful to determine what information you want to gather from people signing up. This can be for example their age, address, contact details, etc.
To collect more information than simply their first and last name, click on Gather more information on the user.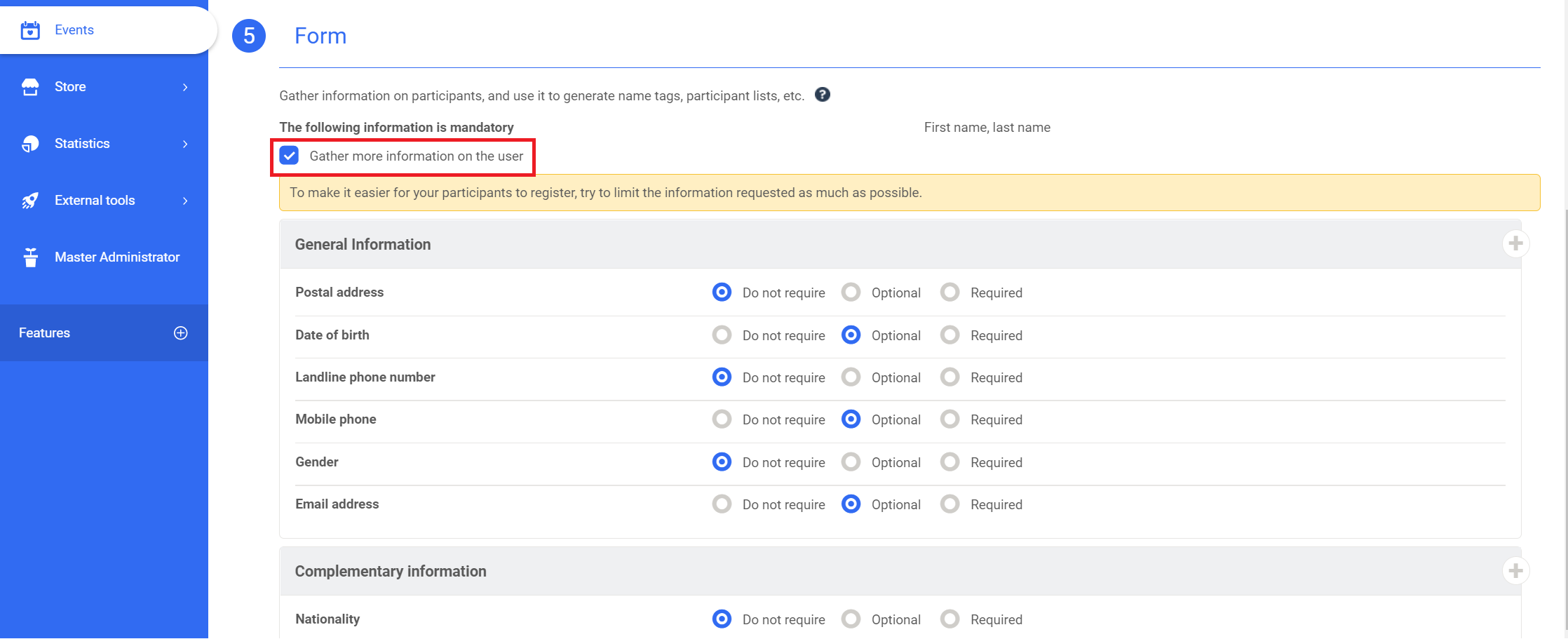 The information fields that appear are those that were set up under the page Community > Settings. If you want to add information fields, this can be done from that page. To find out more on this topic, this article describes adding custom fields.
The information gathered on the form will also be used to update each registrants profile in your CRM.
Payment Options (Only for Online Ticketing)
In this section, you can choose several settings:
Payment methods: Online payment, cash, or check. If you select more than one option, the registrant will be able to choose which method they prefer.
Receipt and confirmation email: Personalize the confirmation email that the registrants will receive after their purchase.
Advanced options: To offer electronic tickets, define a maximum purchase order size on all sales or by a single buyer, or to set up an email to be sent to you for each registration, click on More Options.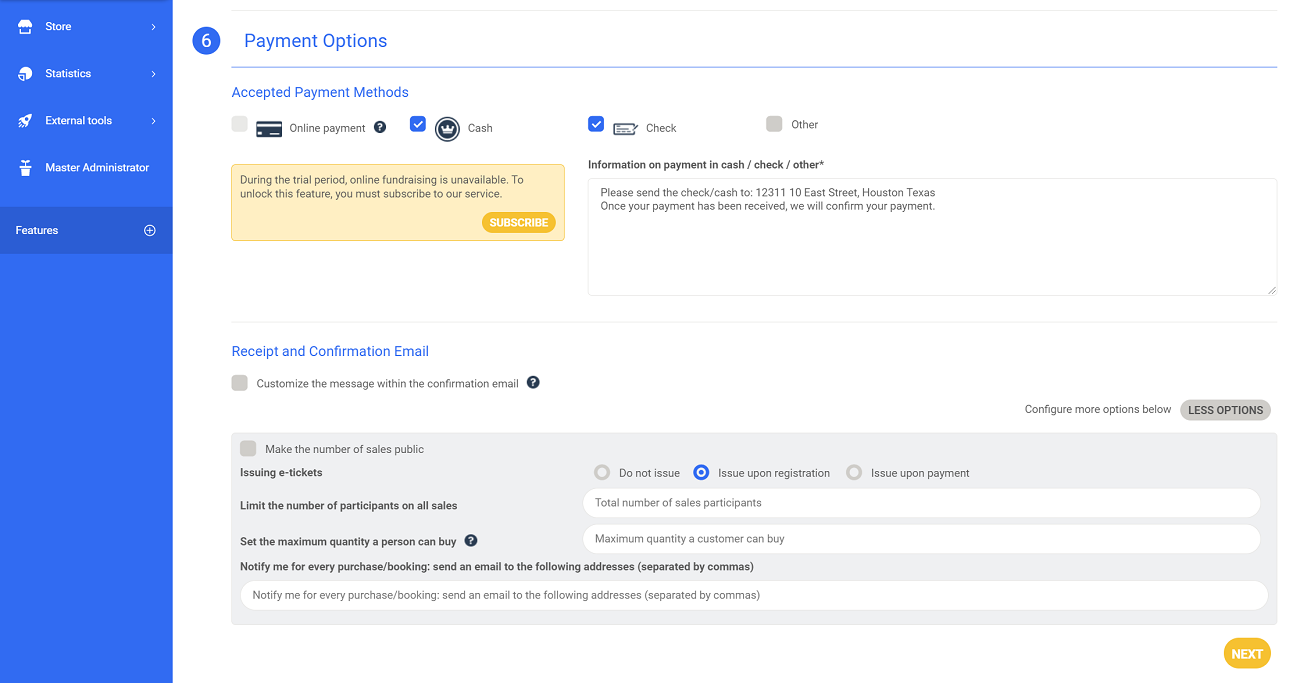 Publication
This last step determines where the ticketing form will be published and who has access to it.

You have two options:
Publishing on your platform's website: publishing the ticketing form on the website page you choose
Accessible from a link: You can share far and wide the link present in the Communication tab
Next, press Save, and tadah! Your event registration form is live!
To access the event via a link, the option Published Website must be active under Website > Settings and Themes. If the website is under maintenance, the link will only be accessible to admins. If you do not use the website feature, publish your website, then disable the feature under Features > Website.