Before Starting
The Communication feature allows you to manage all the communication tools of the software. This features allows you to for example, send email campaigns.
Below, you will find a presentation of the main functions of the feature, as well as links to other articles explaining more in detail their functioning.
This article covers the following points:
Discovering the Communication Tool
Main Idea
The Communication feature allows you to contact your community, as well as to contact other external recipients that you have the emails of.
The feature is made up of two main functions:
The simple email, accessible from different tools in the software, from which you can contact specific people
The advanced email, called an email campaign, which allows you to format the email and integrate different elements such as images, buttons, etc.
How it Works
A central aspect of sending emails is the sender score. This is the confidence score attributed by the different email outboxes (Gmail, Outlook, etc.) to the sender's server.
This influences the reception of the emails, as it impact their spam filters, as well as how the emails are displayed in the inbox (featuring them in the principal inbox, the "commercial" inbox, or the secondary inbox).
How emails are processed on the software: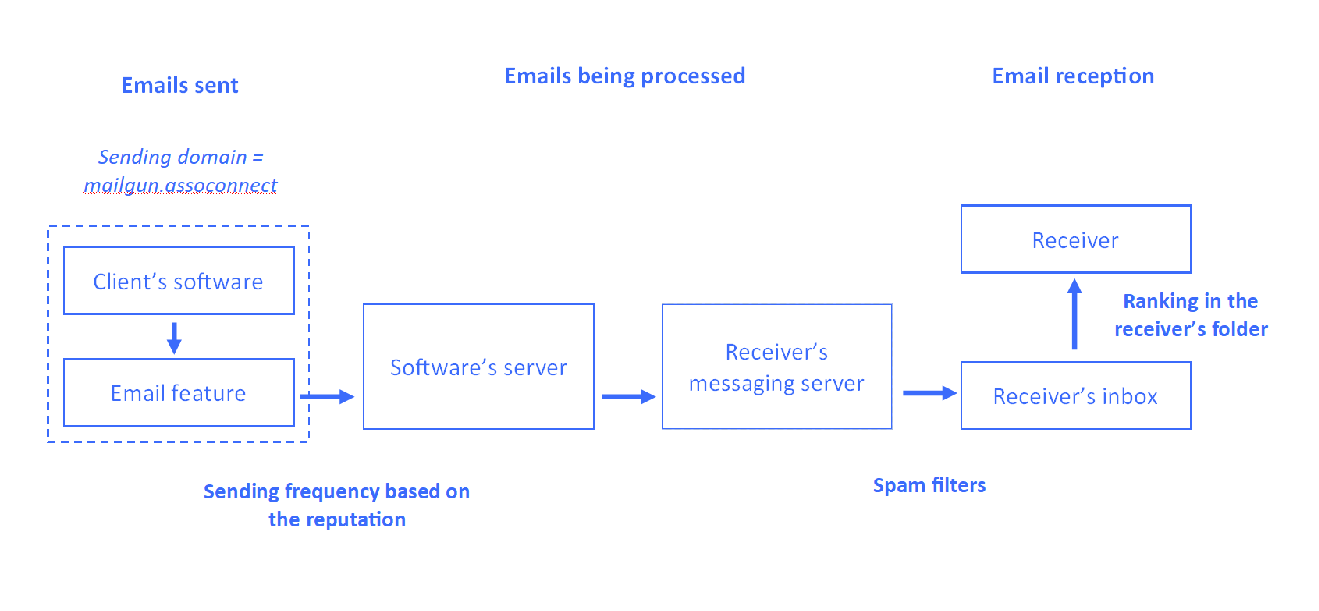 As the reputation score is shared between all the nonprofits that use our service, the email frequency is at first restricted when a nonprofit starts using our tool. We identify the campaigns that have a high bounce or spam rate and intervene quickly.
How emails are sent based on the reputation score:



The sending frequency evolves proportionally to your sender score: the more emails you send, the higher the sender frequency.
Main Functions
Simple Email
The emailing features allow you to send simple emails from the following pages:
Contacts: here you can contact anyone in your CRM
Registration list (in the donations, membership, online store and events tools: here you can contact specific people
You can choose whether to attach files, as well as specify the return email address. The software is not an inbox - you can send, but not receive emails.
Email Campaign
You can send email campaigns and manage their layout by choosing or creating templates, as well as personalize the content using dynamic fields.
The choice of receivers is done via lists. These can be linked to your community, with a list for each group. For lists not linked to the community, these are lists that contain email addresses that are not attached to contacts in your CRM, and are supplied by the newsletter sign-up widget.
Once sent, a statistical follow-up allows you to know the open and bounce rates.