Before Starting
There are two ways to register a member in the software: you can add a membership period from the page Community > Contacts or you can create a membership campaign.
The first method is a lot faster to put in place, but does not allow you to have follow-up on the memberships. The membership campaign, on the other hand, gives you more follow-up options: direct messaging, an overview of the members who have paid, to collect information on the registrants, and much more.
This article discusses the following points:
Adding a Membership Period
Advantages of this Method
This method is the most useful if you are just starting to use the software and are in the middle of a membership period. You simply fill out the membership period that is left for each member, then create a campaign for the following season.
It is also a useful method if you do not allow people to register to be a member online. This way, you can manually register several memberships quickly.
You can also exceptionally extend memberships using this method. It will however not be possible to modify the dates of a membership period that already exists.
Steps
To add a membership using this method, head over to the page Community > Contacts. Next, select the person, click + Options, and select Add as a member. You can then choose the dates of start and end of the membership. Do not forget to validate them!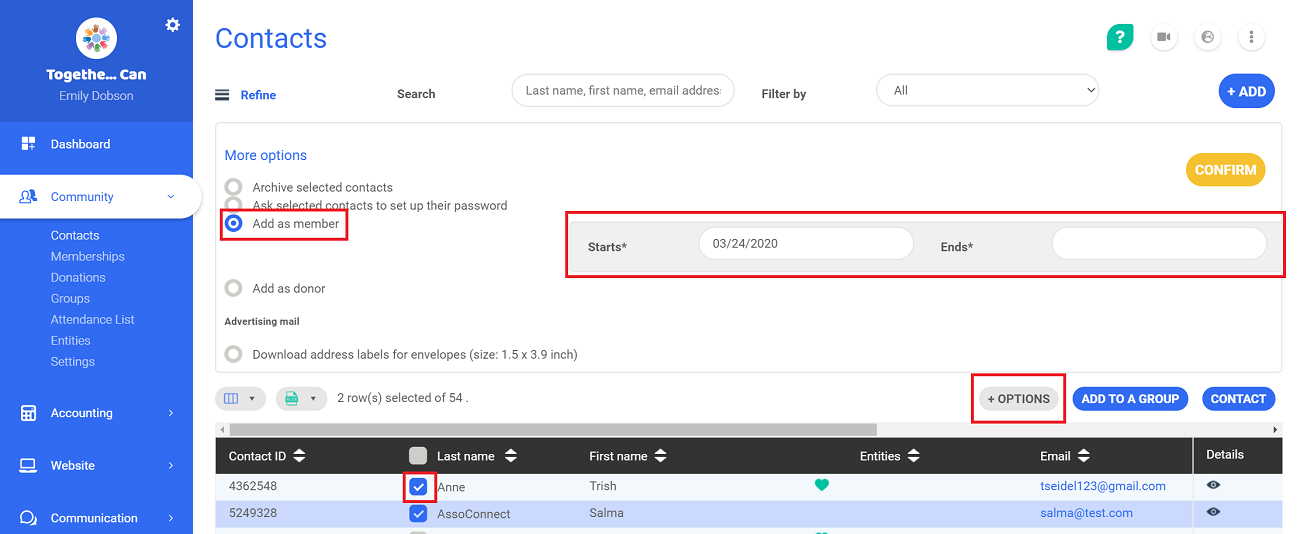 This allows you to add several members at once using this method. To do so, simply tick multiple people and proceed with the same steps as described above.
Creating a Membership Campaign
Advantages of This Method
A membership campaign allows you to choose to manually add members or to let them sign up individually online. If a registrant is new to your nonprofit, they will be automatically added to your CRM. If they already exist in your CRM, their profile will be updated with the membership details.
You can also collect information on registrants by asking them to fill out a form with personalized questions.
Additionally, once a campaign is created, it can be shared online.
You can find a complete overview of the progress of your campaign in the software. This is presented in the form of a table, where you can find the people who registered to become a member, which membership option they chose, the payment status of their fee and their payment method.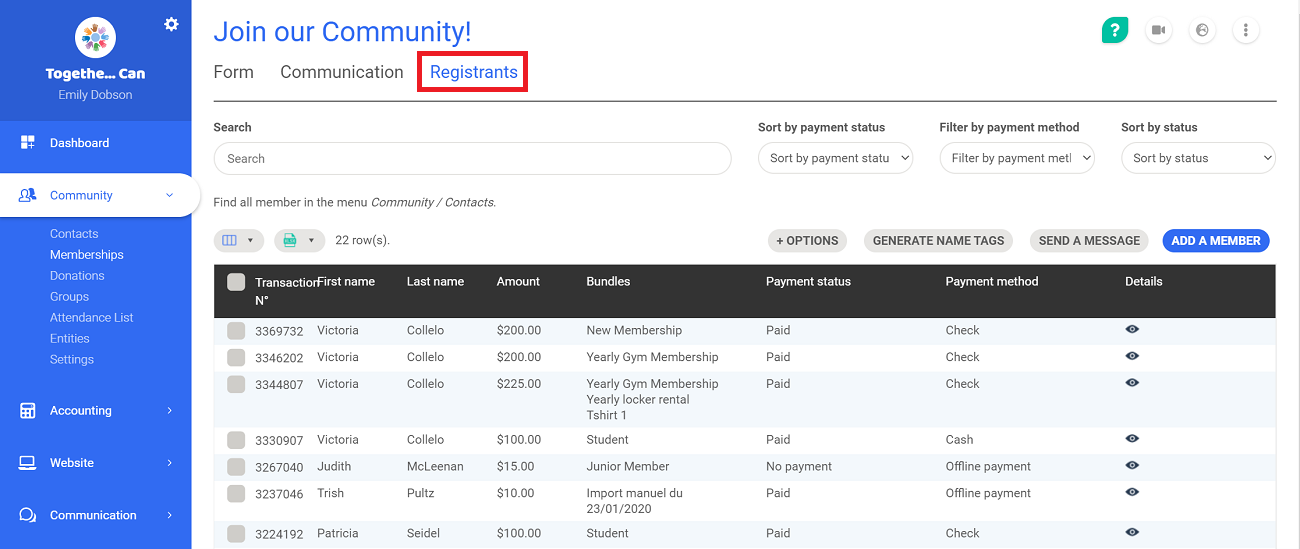 Steps
A membership campaign is created from the page Community > Memberships. Here, click on Create a Membership Campaign and fill out the steps.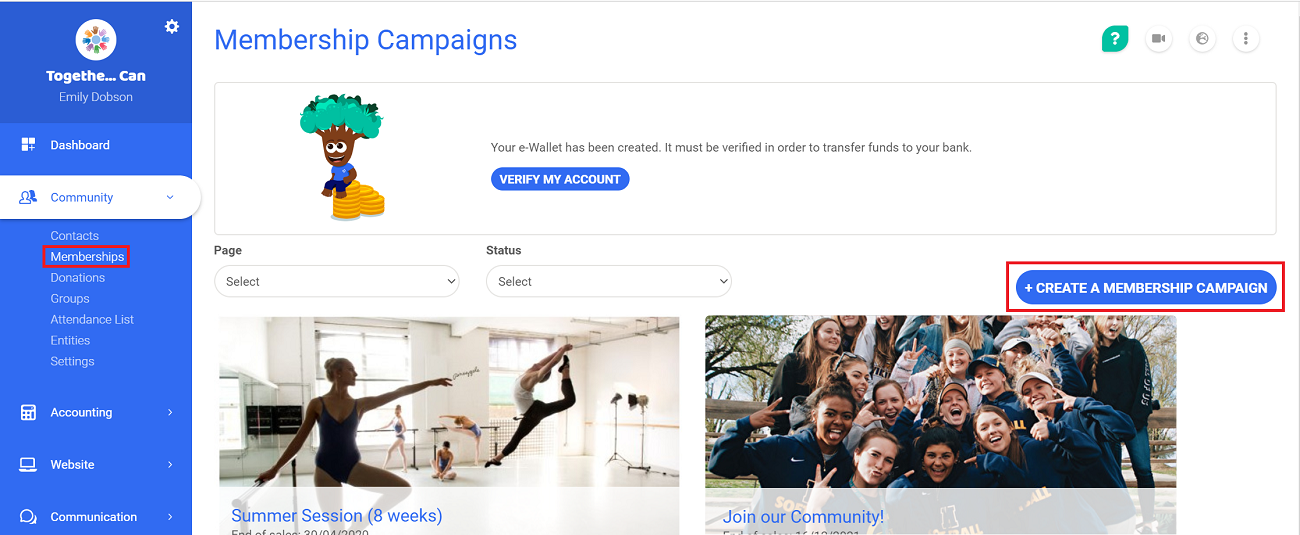 Manually Adding a Membership Using the Membership Campaign Method
Where to Start
With a membership campaign, new registrants can sign up online on their own, meaning they will automatically be added to your membership list without any actions required from your side. You do, however, still have the opportunity to add members manually using this method.
To add a member to a campaign, head over to Community > Memberships. Here you will find a recap of all your membership campaigns. Next, click Manage on the campaign you want to add members to.

You will be redirected to the overview page, where you can find a list of all members. Click on the button Add a Member.

Linking a Membership to a Profile in the CRM
The field Attach a contact (optional) will allow you to link the membership to a person that already exists in your CRM.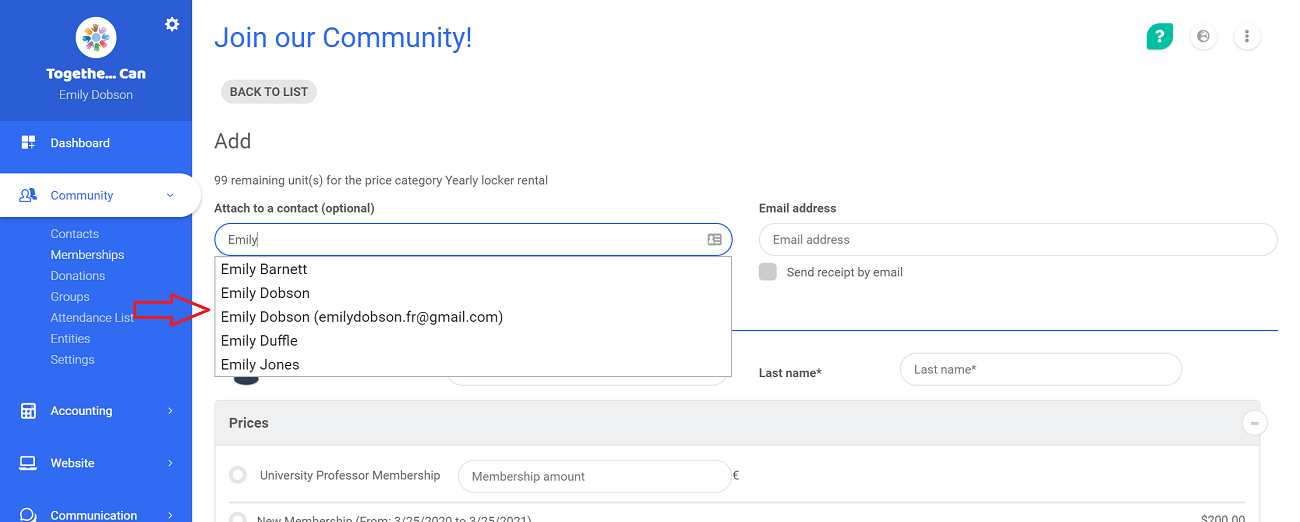 Saving the Membership
You can save the membership by filling out their first and last name, and their membership type. You can directly add another person by clicking Add a contact at the bottom of that same page.
You can apply a personalized discount in $ or % before clicking Continue.
Filling Out Information on the Member
Next, you will be able to fill out additional information on the member. This information corresponds to the fields that were requested in the form of the membership campaign.
If a profile for this person already exists, you can choose to attach this membership to their profile, or to create a new one. The forms of unfinished memberships are also visible here.

Filter by Payment Status
To see who has paid and who hasn't, head over to Memberships > Manage > Registrants. Here you will have a complete overview of all signed up members, and you can filter by payment status.