Before Starting
With a membership campaign, you can choose to register your members manually, or allow them to sign up online autonomously. The second option can save you precious time, and they both provide you with a better follow-up of your members.
This article covers the following points:
How a Membership Campaign Works
Your different membership campaigns will be listed under Campaigns & Forms > Memberships.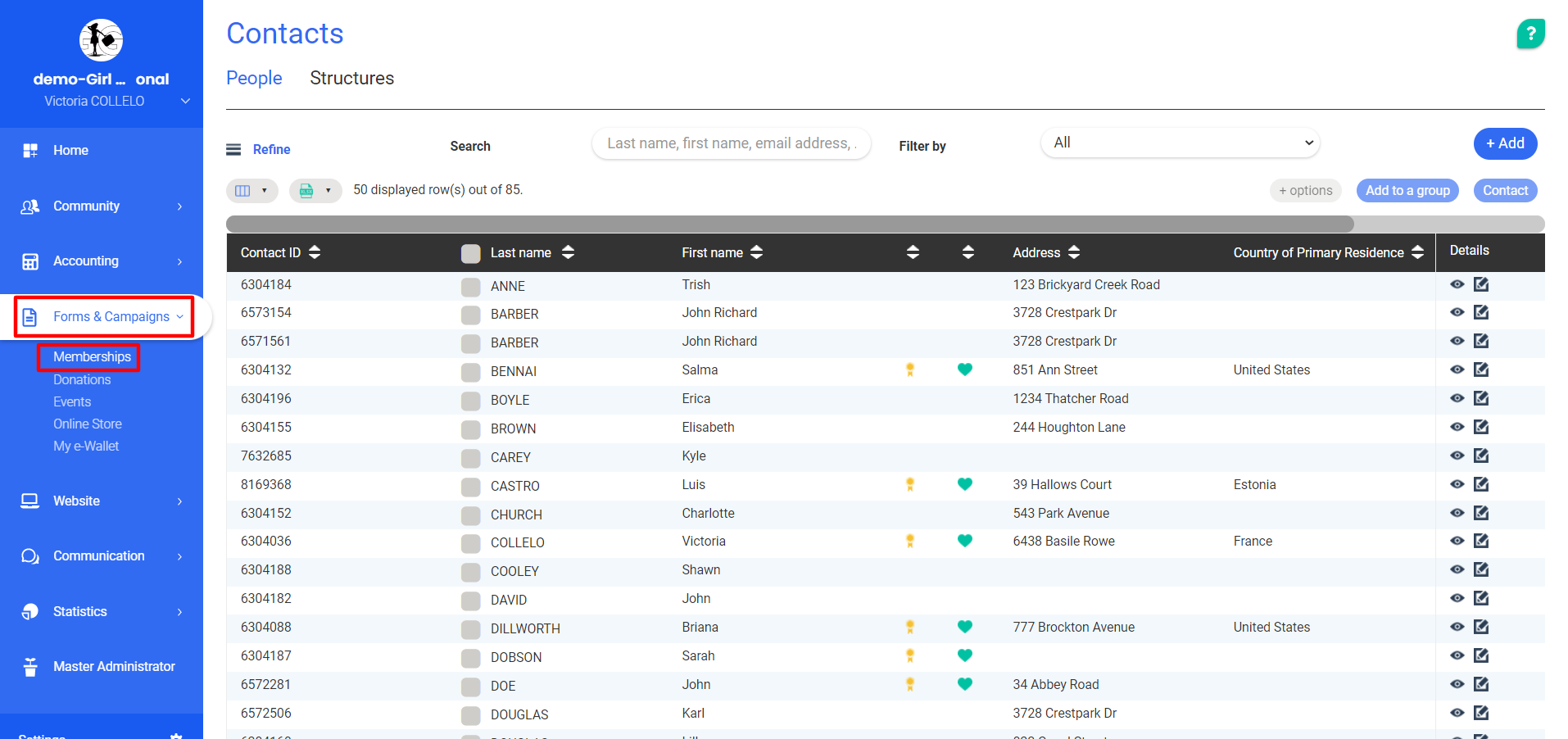 If you have not launched any campaigns yet, it's time to get started!
To start, click +Create a Membership Campaign. Next, follow the seven steps on the screen and your campaign will be ready to go! These steps are discussed in more detail below.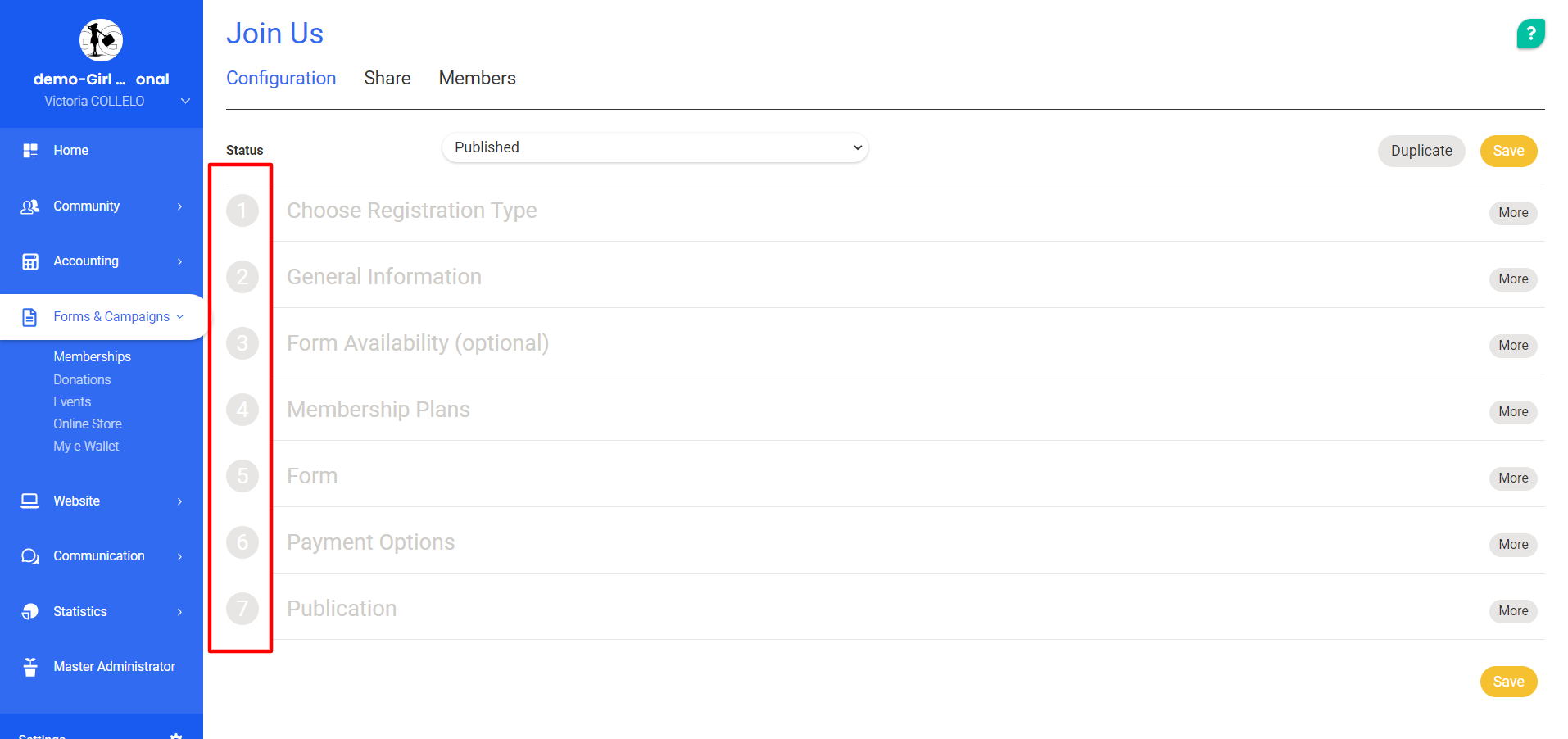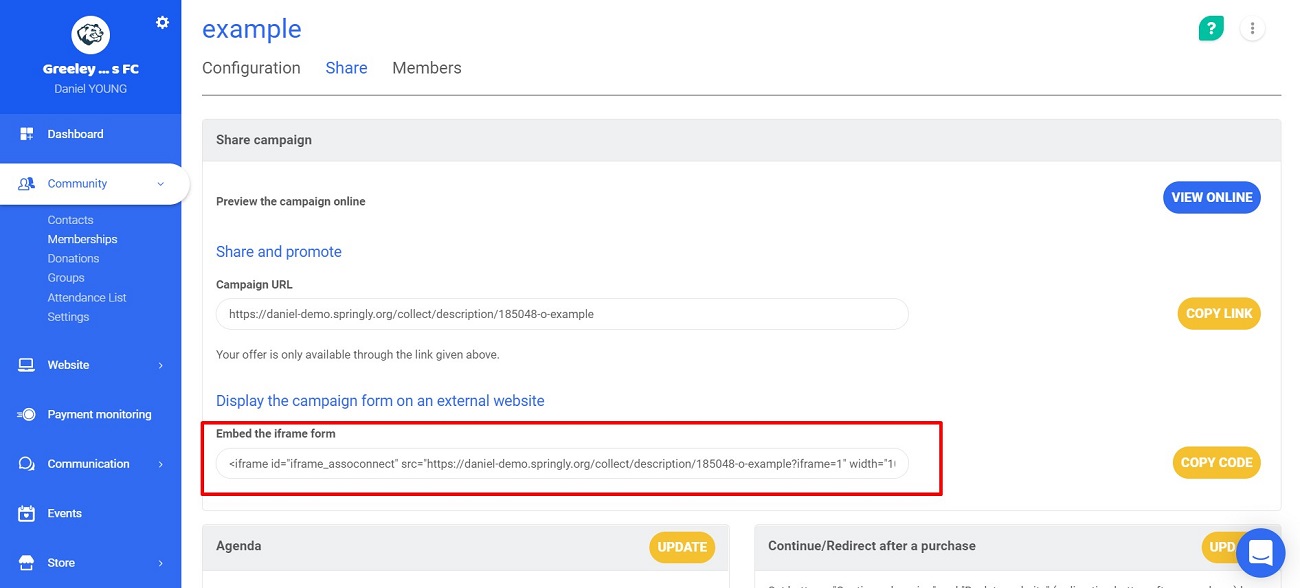 Overall, a membership campaign has 3 parts:
A Form, which is filled in by a member when they register, which your nonprofit can fully personalize.
A Communication page, which holds the link to the form and the different ways it can be published.
A list of Members, allowing you to follow the registrations and the associated payments.
New members will be added automatically to your Community (CRM). This way, you can easily follow the payment status and have an overview of all your contacts.
Personalizing the Form
1. Choose Ticketing Type
When you create a form, whether it be for a membership or donation campaigns, an event or an online store, you can select between two types of campaigns: online and offline.
To see how to manually add a member, check out this article.
2. General Information
You need to fill in the title of your campaign as well as add a description before the campaign can be launched online. We also recommend adding a photo. You can provide further information on the campaign by filling in the terms and conditions or attaching files.
This section allows you to explain the membership process. Do not hesitate to add a maximum amount of information to clarify the process so your new members feel at ease and are fully informed.
3. Dates
By filling out the campaign start & end dates you'll be able to limit the period over which members can register. Once the campaign ends, new registrations will no longer be possible.
You can leave this section blank if there is no end date to your campaign.
4. Membership Plans
Here, you can set up your different membership offers. To create a new plan, click on +New. You can then choose between different types of prices.
Different Rates
Membership Plan: this rate is obligatory and is the basis of membership registration.
Optional Services: here you can add, for example, optional lessons and workshops.
Product Sales: complementary products that can be bought alongside membership, for example, a basketball uniform if you are a sports club.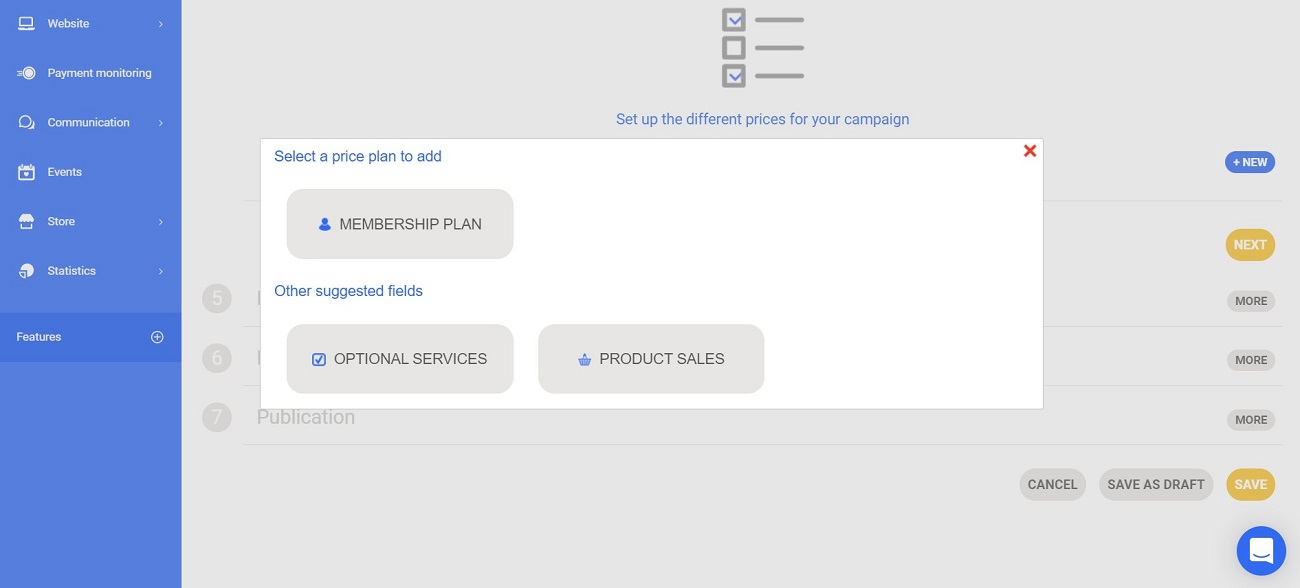 Next, fill in the title, the price, and the dates of registration by selecting a price plan or clicking on the Settings button of an existing one.

Membership Dates
You can choose between two options when setting up a membership registration period:
From date-to-date: People signing up will have a membership over a fixed period that you will have defined, no matter their start date. For example, if the end date is set as January 1st, if they sign up in March or July, their membership will still finish on January 1st.

For a given number of months from the membership start date: People signing up will have a membership over a fixed period starting from the date they signed up. For example, if your membership option lasts 12 months, someone signing up on January the 12th will stay a member until the 12th of January the following year.
Advanced Settings
You can further personalize this section by clicking on +Options. Here you can:
Hide the price of a campaign published online, by unticking the Show price box
Add the user to a group during the membership process if signed up with a specific membership option
Limit the number of participants for this price
Price Groups
If you offer a wide range of prices, you can organize them by creating price groups. This article will provide you with more information.
Discounts
You can give some members preferential rates by creating discounts. The process of creating a discount is described in this article.
5. Form
Setting Up the Form
This section will allow you to choose which information you want to collect on your members when they sign up.
When registering, applicants will fill in the fields that are defined in the settings of their profile. The information they provide will be used to create and fill in their profile, which you can access through Community > Contacts > Details. For more information, check out this article.
You select which information fields the applicant needs to fill in, by choosing whether to make them required, optional, or not required.

Information displayed on re-registration
If someone registers again, software shows only the information fields that were not filled out previously. This simplifies the process on the candidate's side.
Sometimes, information from previous registrations needs to be updated, for example, if you offer workshops, members probably won't want to attend the same ones as the previous year. To ask this information again, there are two options:
You can delete these fields at the end of the membership period and create new ones. This way, the data in the fields will also be deleted and the field will show up again during the re-registration.
You can also create a field per period (i.e. "Workshops 20X9"and "Workshops 20X0").
6. Payment Options
Payment Options
If you are setting up an online campaign, you can offer different payment methods to your future members.
Online payments are collected through your online account. If you have not yet verified your account, you will only be able to collect 250$ max per transaction, and only have up to 2.500$ on your account.
To collect and transfer funds without any restrictions, follow the steps in this article to verify your account.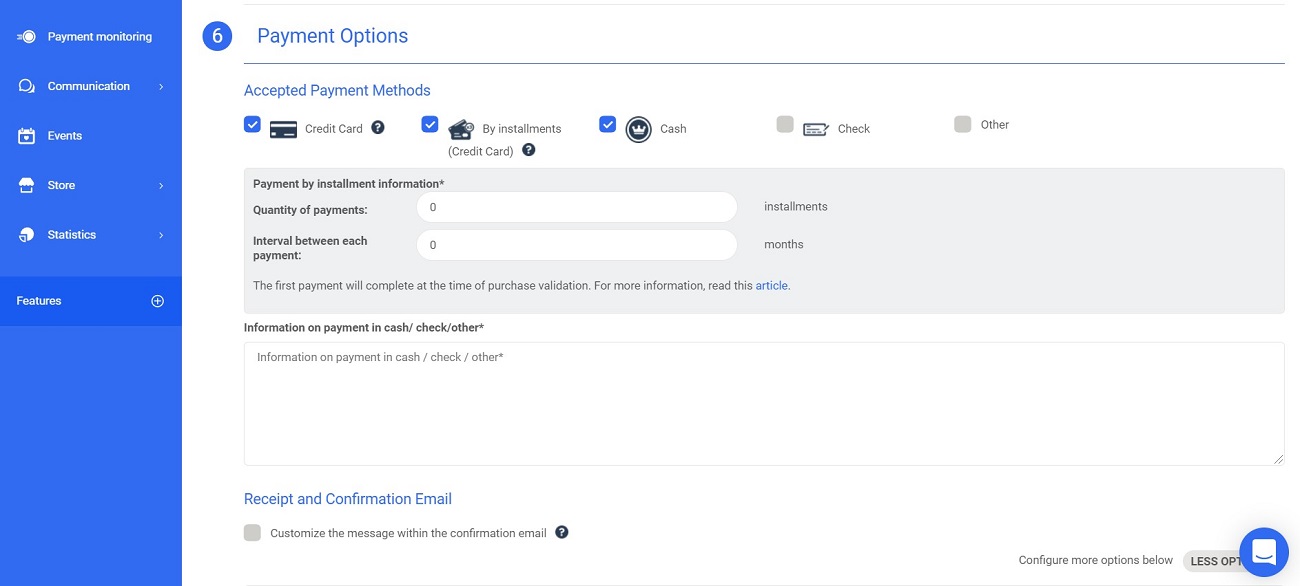 Confirmation Email
You can modify the message that is sent in the email confirmation, which is a good opportunity for you to personalize your thank you message.
Advanced Settings
The advanced settings of this section allow you to:
Limit the number of purchases on all sales or per person
Fill in an email address if you want to be notified of each new membership
Send a tax receipt
Make the number of sales public
A tax receipt is sent based on the whole purchase. If all the membership options are not eligible for tax receipts, you will need to create separate campaigns. An invoice will only be created if issuing a tax receipt is deactivated for the campaign.
7. Publication
Publishing the Form Online
As the name suggests, publishing on your website will post the campaign on a page on your website. For the campaign to be visible, the page that hosts your form needs to be published (i.e. the page needs to be placed in a website's menu, which you can do from the drop-down Choice of the publication page or by going on Website > Menus and Pages).
The option accessible from a link allows people to access your registration form through an external website or an email. For example, you can share this link in your newsletter. You'll find this link in your campaign's Communication tab.

For people to access the campaign using this link, you must have selected "published website" in the dropdown menu on the page Website > Settings and Themes.
If your website is under maintenance, the campaign will only be accessible to admins.
If you are not using the website feature, no worries - you can still publish your campaign this way! To do this, keep the website tool deactivated under Features and select "published website" in the dropdown menu on the page Website > Settings and Themes. This way, when someone accesses the form, they'll just need to login on the first page.
It is also possible to publish the campaign on an external website by integrating it as an iframe.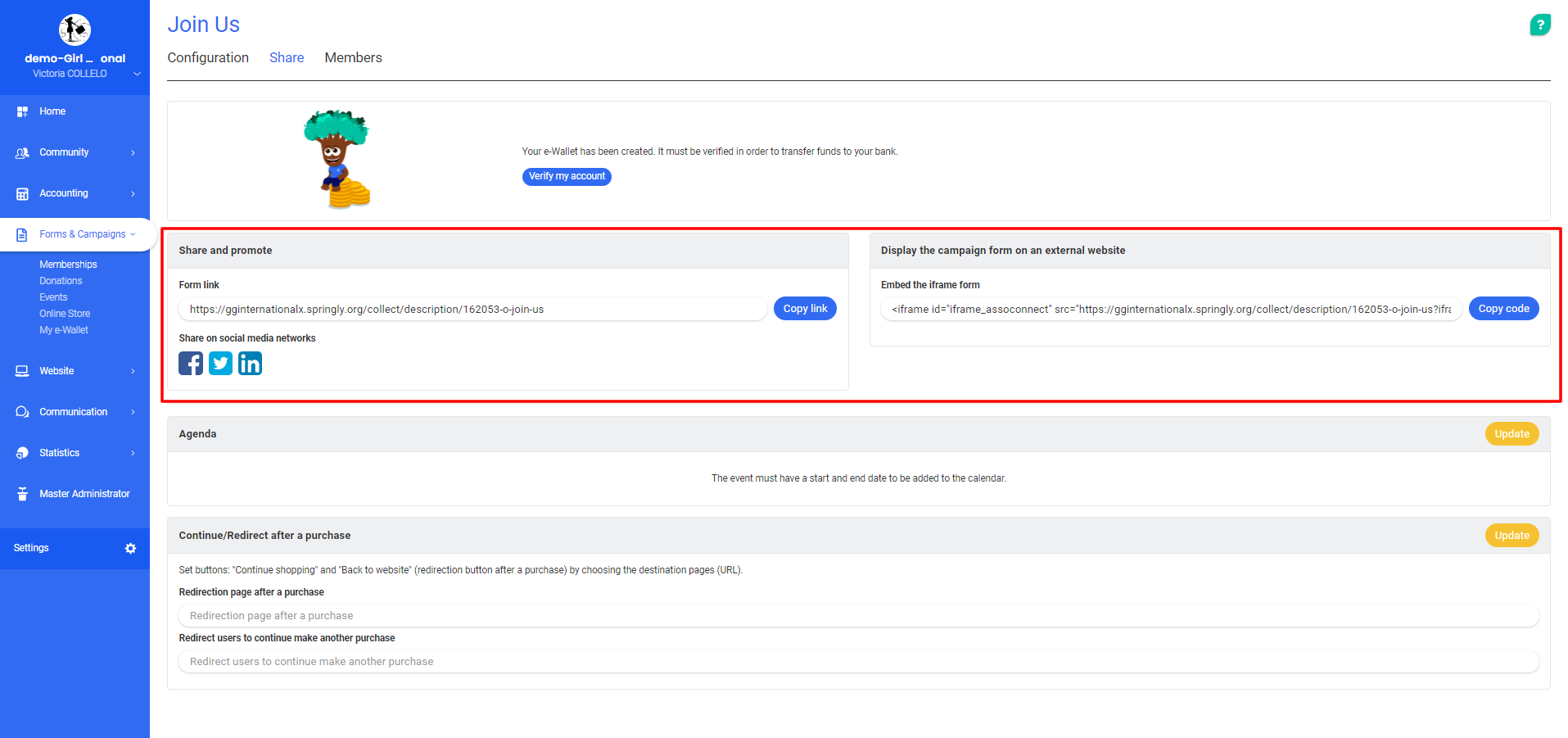 Access Rights
Just like for a website page, you can restrict the access to the campaign to only certain contact categories or groups.
Saving the Form
Once all the above steps have been completed, click Save at the bottom of the form.
The status at the top of that same page, will then be updated to Published. From this point forward, you can change the status of the campaign to Draft, Sales on hold, or Archived.

If the form doesn't want to be saved, you've probably missed a field - this will then be highlighted by the software in red. You simply need to fill in the required information, press Save again, and you're ready to go!